The top-tier RNAi therapeutics firm, Alnylam Pharmaceuticals, Inc., has reported encouraging outcomes from the Phase 2 KARDIA-1 trial of zilebesiran. This investigational RNAi treatment, which targets the liver-expressed angiotensinogen (AGT), is currently being developed to manage patients suffering from hypertension and elevated cardiovascular risk.
👇Please click on the image below to directly access the latest data (R&D Status | Core Patent | Clinical Trial | Approval status in Global countries) of this drug.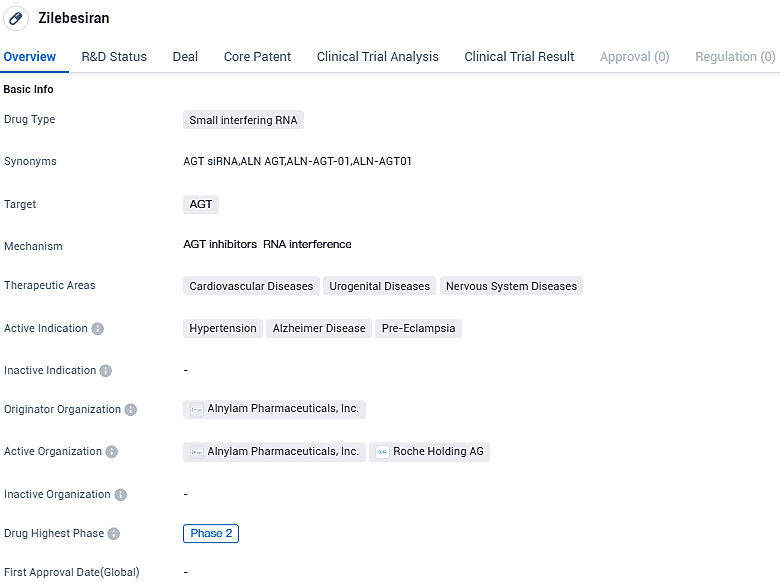 The research findings were revealed amidst the American Heart Association Scientific Sessions taking place in Philadelphia, Pennsylvania from November 11-13, 2023. Prior to this, the Company declared encouraging preliminary outcomes from the KARDIA-1 study in September 2023.
The primary goal of the KARDIA-1 study was met, as zilebesiran's single doses showed clinically meaningful reductions in the average systolic blood pressure over 24-hours, monitored by ambulatory blood pressure monitoring, at the 3-month mark across all doses. The 150 mg, 300 mg, and 600 mg doses resulted in placebo-adjusted reductions of 14.1 mmHg, 16.7 mmHg, and 15.7 mmHg, respectively.
The study also hit crucial secondary targets across all doses, which included proof of lasting effectiveness up to 6 months. At the 150 mg Q6M, 300 mg Q6M, 300 mg Q3M, and 600 mg Q6M doses, zilebesiran exhibited placebo-adjusted reductions in the average 24-hour SBP as measured by ABPM of 11.1 mmHg, 14.5 mmHg, 14.1 mmHg, and 14.2 mmHg at the 6-month mark, respectively.
Zilebesiran showcased a promising safety and tolerability record that the Company is confident will support ongoing development. "These KARDIA-1 outcomes are compelling, indicating that zilebesiran can safely instigate clinically substantial reductions in systolic blood pressure and steady blood pressure control when administered subcutaneously with either quarterly or twice-yearly dosing in a diverse patient pool with mild-to-moderate hypertension," Professor George L. Bakris, M.D., a Board-Certified Hypertension Specialist and the Director of the American Heart Association Comprehensive Hypertension Center at the University of Chicago Medicine, stated.
He continued to express optimism about zilebesiran's potential capability of not only serving as a novel hypertension treatment but also an innovative therapeutic approach that could lessen cardiovascular and renal risks in patients with hypertension – a field urgently requiring fresh and inventive therapies, remarked George L. Bakris.
👇Please click on the picture link below for free registration or login directly if you have freemium accounts, you can browse the latest research progress on drugs, indications, organizations, clinical trials, clinical results, and drug patents related to this target.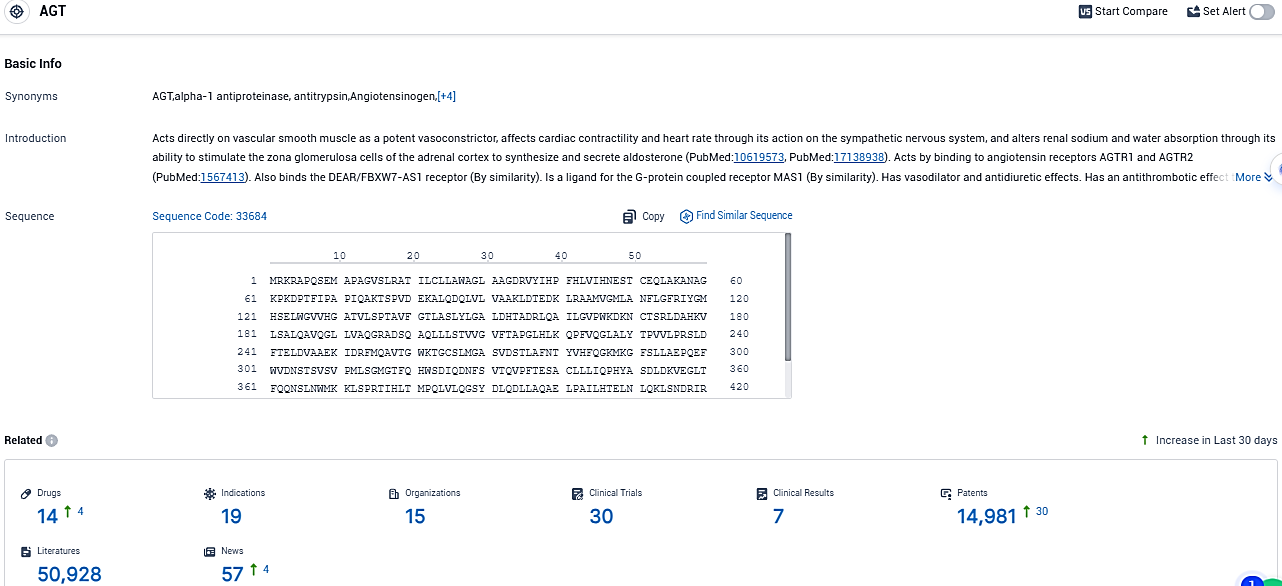 According to the data provided by the Synapse Database, As of November 18, 2023, there are 14 investigational drugs for the AGT target, including 19 indications, 15 R&D institutions involved, with related clinical trials reaching 30, and as many as 14981 patents.
Zilebesiran inhibits the synthesis of AGT in the liver, potentially leading to durable reductions in AGT protein and ultimately, in the vasoconstrictor angiotensin (Ang) II. The safety and efficacy of zilebesiran have not been established or evaluated by the FDA, EMA or any other health authority. Zilebesiran is being co-developed and co-commercialized by Alnylam and Roche.