During a Late-Breaking session at the American Heart Association conference, Anthos Therapeutics, Inc., a clinical phase enterprise specializing in ground-breaking treatments for heart disorders and established by Blackstone Life Sciences, disclosed that abelacimab exhibited an impressive decrease in incidents of bleeding in all major and minor outcomes compared to a conventional direct-oral anticoagulant treatment.
👇Please click on the image below to directly access the latest data (R&D Status | Core Patent | Clinical Trial | Approval status in Global countries) of this drug.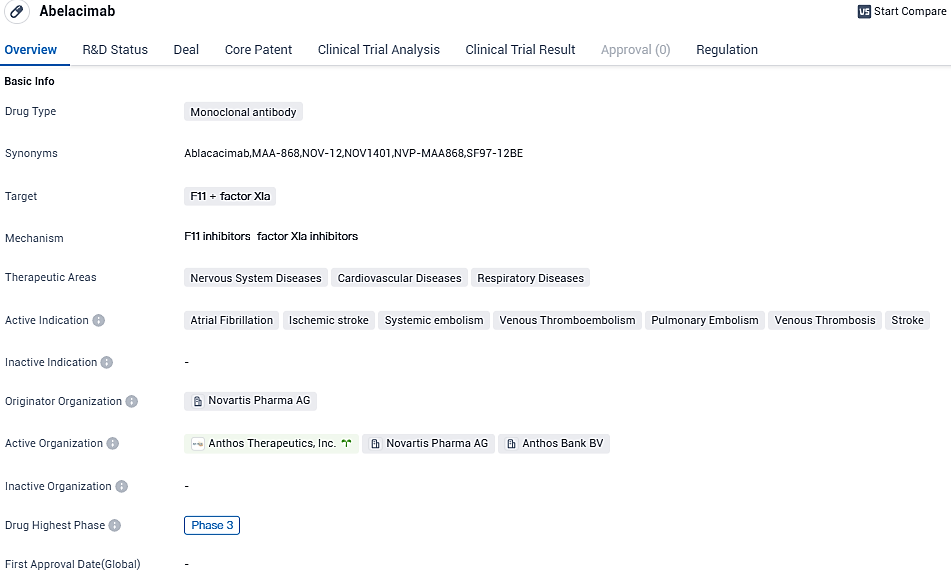 Following a median follow-up period of 21 months, which took into account over 2,000 patient-years, the AZALEA-TIMI 71 research scrutinized the safety levels and tolerance of abelacimab in comparison to rivaroxaban, in 1,287 patients facing moderate to elevated risk of ischemic stroke. Anthos Therapeutics has commenced a supplementary study, with an aim to facilitate patients' shift from rivaroxaban to abelacimab, as it exhibits an enhanced bleeding profile.
Atrial fibrillation (AF), also identified as AFib, signifies erratic heartbeat, or arrhythmia causing blood clots, stroke, heart failure, among other heart-associated problems. As of now, approximately 37 million people globally are diagnosed with atrial fibrillation. Concurrently, in the United States, it's projected by CDC that more than 12 million Americans will succumb to AF by 2030.
The key aim of anticoagulation treatment is to obstruct or manage thrombosis with least hinderance to hemostasis. While anticoagulants presently available are proficient in preventing strokes among AF patients, the possibility of bleeding poses a significant challenge.
In 2022, the FDA awarded a Fast Track Status to abelacimab for the prevention of stroke and systemic embolism in AF patients, acknowledging the crucial unfulfilled medical requirement and prospective benefits of abelacimab. This Fast Track Classification process is designed to hasten the development and swift review of treatments for severe health conditions, with an aim to reach patients sooner with crucial new drugs.
Mellanie True Hills, the Founder and CEO of StopAfib.org, a non-profit patient advocacy organization, expressed strong optimism regarding the future prospective for AFib patients, by stating, "The significant reduction demonstrated by abelacimab compared to a standard-care anticoagulant in the AZALEA-TIMI 71 research is truly impressive. If greenlighted, the dual Factor XI / XIa inhibition approach could offer patients the sought-after anticoagulation protection with minimal or absolutely zero risk of bleeding."
👇Please click on the picture link below for free registration or login directly if you have freemium accounts, you can browse the latest research progress on drugs, indications, organizations, clinical trials, clinical results, and drug patents related to this target.

According to the data provided by the Synapse Database, As of November 18, 2023, there are 16 investigational drugs for the F11 and factor XIa target, including 22 indications, 27 R&D institutions involved, with related clinical trials reaching 112, and as many as 1480 patents.
Abelacimab received a Fast Track Designation from the FDA in July 2022 for the treatment of thrombosis associated with cancer. In September 2022, abelacimab was also granted a Fast Track Designation for the prevention of stroke and systemic embolism in patients with atrial fibrillation.