Chimeric antigen receptor (CAR) T cell therapy, in which a patient's own T lymphocytes are engineered to recognize and kill cancer cells, has achieved remarkable success in some hematological malignancies in preclinical and clinical trials, resulting in six FDA-approved CAR-T products currently available in the market. Once equipped with a CAR construct, T cells act as living drugs and recognize and eliminate the target tumor cells in an MHC-independent manner.
CARs are synthetic immune receptors that connect a single-chain variable fragment (scFv), derived from a monoclonal antibody to T cell signaling domains to eradicate tumor cells independent of the major histocompatibility complex (MHC).
Once equipped with a CAR, T cells, known as CAR-T cells, act as living drugs and recognize and eliminate the target tumor cells. The conventional CAR structure consists of three modular components: the ectodomain, the transmembrane domain, and the endodomain, each of which has specific components and functions and thus the potential to be optimized.
An exemplification using Tisagenlecleucel demonstrates the approach of performing sequence retrieval for each individual region, as well as searching for the overall relevant sequence through a combination of different fragments.
I. Fragment Search
Creating a complimentary account in the Patsnap Bio Sequence Database is necessary to initiate the fragment search process. Subsequently, on the database's homepage, the complete sequence of Tisagenlecleucel should be entered into the fragment search function. On the right-hand side, the option to select multiple segments should be chosen (up to 10 segments are currently supported). In this case, the starting and ending positions of three segments, namely Hinge, Transmembrane, and Intracellular, should be inputted separately. By clicking on the "Search" button, the related sequence results for the three core functional components of Tisagenlecleucel will be obtained.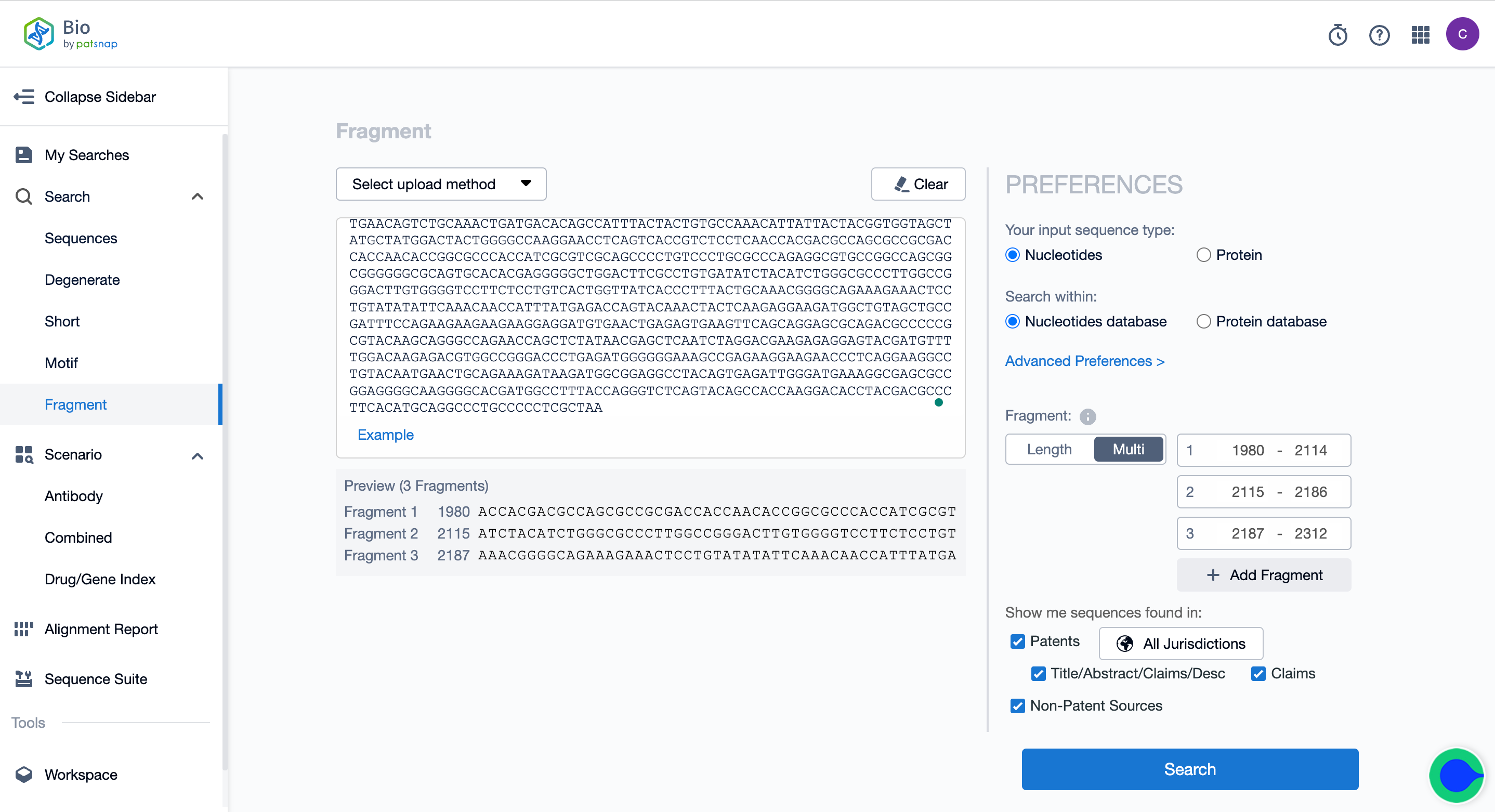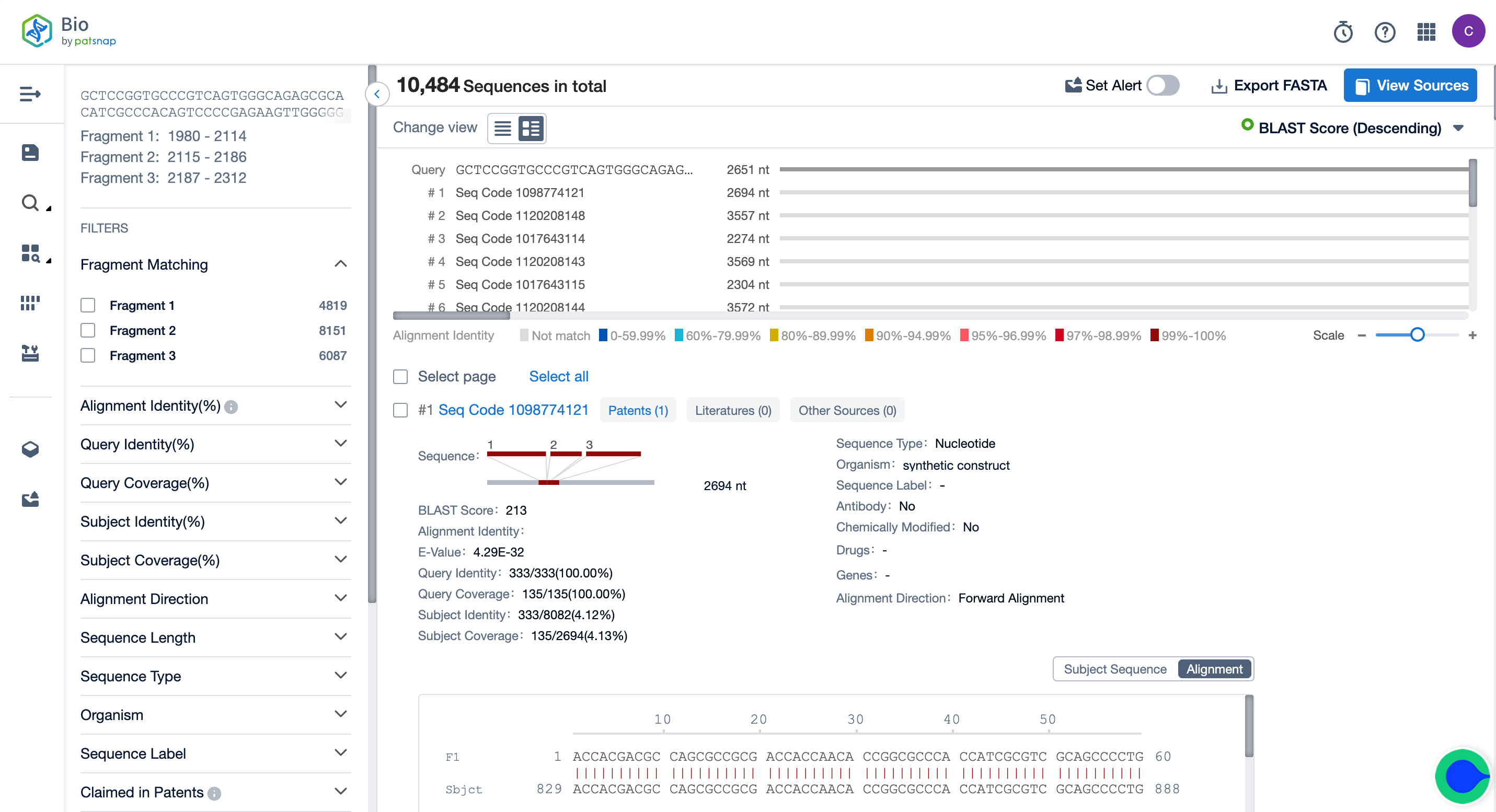 II. Combined Search
The combination search feature, situated on the homepage of the Bio database, permits simultaneous searches of multiple sequences, based on the core functional components of CAR-T therapy, including the antigen recognition region, hinge region, transmembrane region, and intracellular structural domain. The three segments of tisagenlecleucel discussed previously – Hinge, Transmembrane, and Intracellular – should be entered separately into the search box (up to 6 segment combinations are currently supported). Subsequently, by clicking "Search," a heatmap illustrating the publicly available patents that disclose the combination of the three sequences will be displayed. Further investigation into the details of these patents is possible.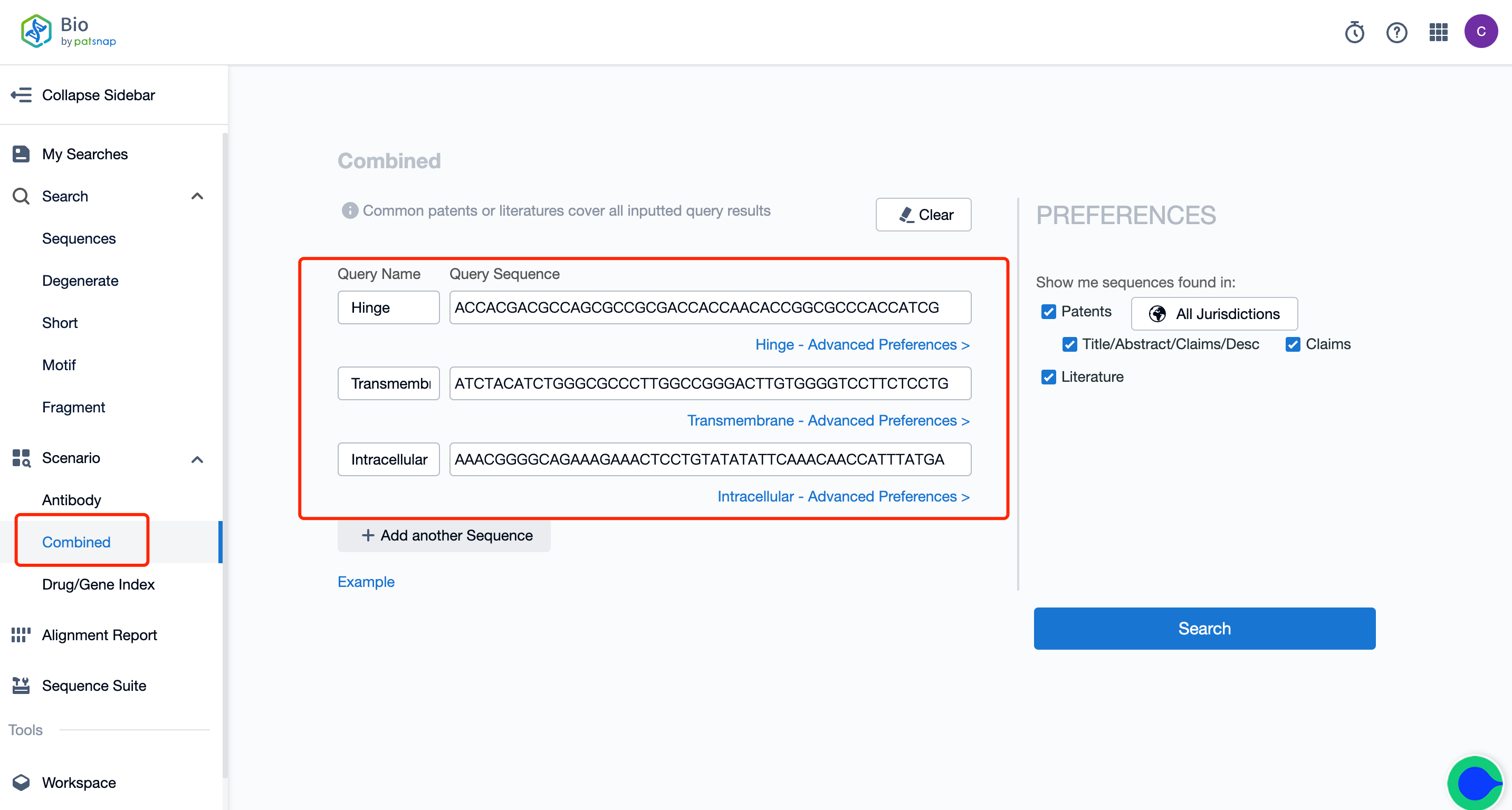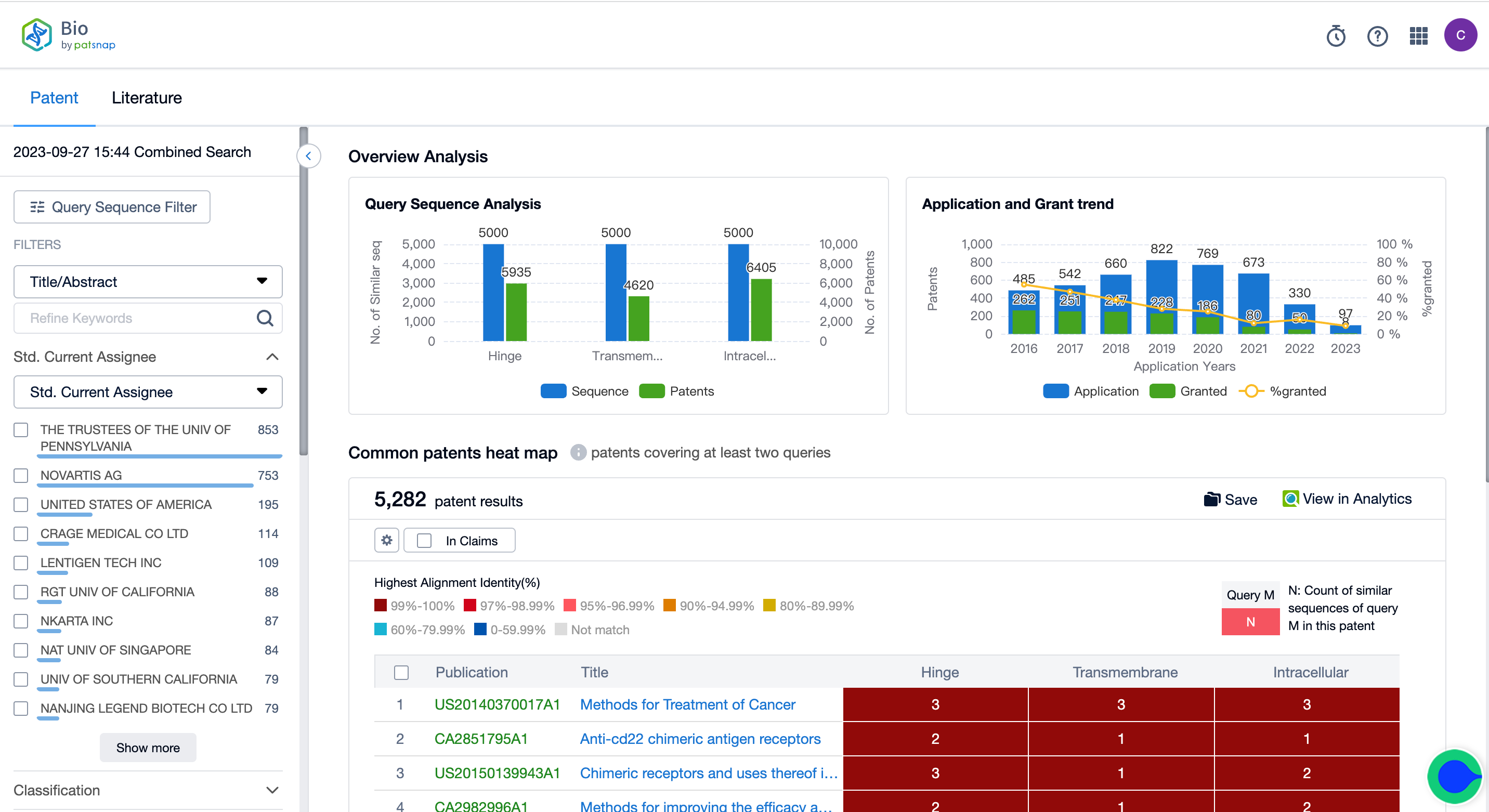 It is important to note that Patsnap Bio is the most extensive sequence search platform for the Patsnap database. It incorporates AI with human-curated data for comprehensive handling of protein and nucleotide sequence data plucked from global patents, biological periodicals, and public repositories. Essential biological sequences are manually annotated, illuminating structural modifications to provide the most accurate sequence data and boost sequence retrieval efficiency.
Free registration is available for the Bio biological sequence database: https://bio.patsnap.com. Act now to expedite your sequence search tasks.