Telix Pharmaceuticals Limited has declared that the initial participant has been given a dose in the firm's Phase III ProstACT GLOBAL trial. This study is focused on TLX591 (177Lu-rosopatamab tetraxetan), an under scrutiny therapy that targets the prostate-specific membrane antigen (PSMA) via a radio-antibody drug conjugate.
👇Please click on the image below to directly access the latest data (R&D Status | Core Patent | Clinical Trial | Approval status in Global countries) of this drug.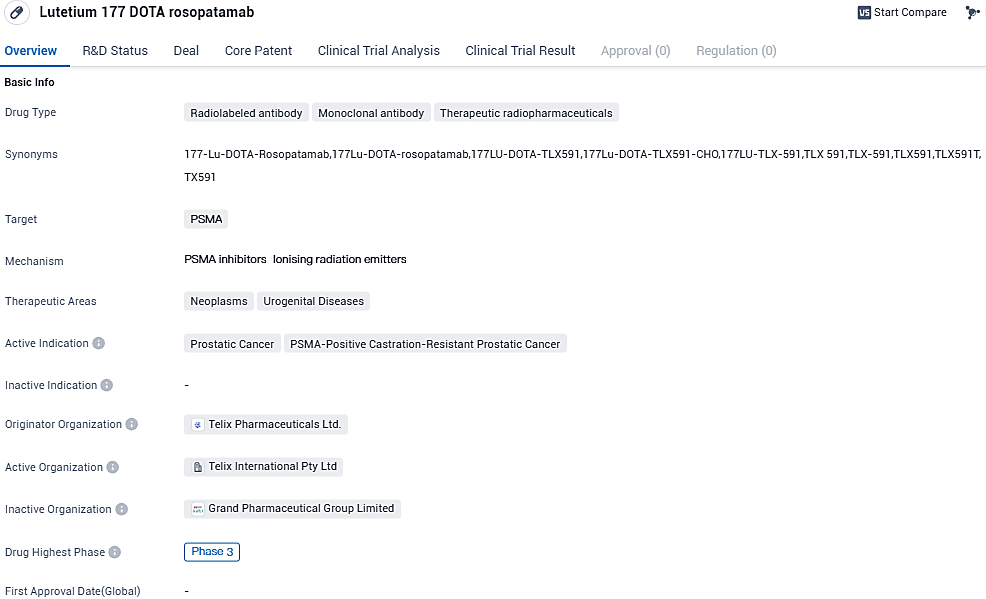 TLX591 is an rADC, constructed from a highly specific PSMA-targeting antibody, a chelator linker, and a lethal dose of lutetium. This PSMA monoclonal antibody targeting paradigm yields distinctly different targeting and pharmacological implications from anti-PSMA small molecules. ProstACT GLOBAL signifies the initial Phase III trial investigating TLX591 in PSMA-positive metastatic castrate-resistant prostate cancer adult patients, with administration along standard of care (SoC) contrasting standalone SoC. ProstACT GLOBAL's intersection with globally accepted SoC sets it apart from other PSMA studies, underscoring Telix's ongoing advancements in prostate cancer therapy and dedication to patient results.
So far, a total of 242 patients have received treatment throughout eight Phase I and II studies on TLX591, including Telix's ProstACT SELECT study which authenticated the clinical efficacy of Telix's ideal fractionated dosage and safety trait of the product. Previously disclosed Phase II study results highlighted a 42.3-month overall survival rate and a satisfactory safety profile when provided under a fractionated dosing regimen in combination with docetaxel chemotherapy.
Initial results from the recently finalized ProstACT SELECT study illustrated substantial targeted PSMA tumour binding and radiation delivery to bone, lymph node, and viceral metastases with minimal ingestion and safety issues in the kidneys, salivary glands, and tear ducts. This distinguishes biodistribution is noteworthy when pitted against small molecule diagnostic and therapeutic PSMA agents, where uptake may not be purely restricted to cancerous tissue.
The SELECT results further substantiate the clinical benefit of the condensed, straightforward treatment plan of two doses given 14 days apart, simultaneously showing the prolonged retention, internalisation, and potential curative gains of the PSMA-induced antibody focused approach labeled with 177Lu.
The research is anticipated for an international expansion pending regulatory approvals, including in Europe and America, where the IND application of Telix is prepared for a Q4 2023 submission to the FDA. The anticipated US division of the study will also include a transitional period to link manufacturing data to a fresh commercial-scale process. An interim analysis is anticipated after treating the initial 120 patients.
👇Please click on the picture link below for free registration or login directly if you have freemium accounts, you can browse the latest research progress on drugs, indications, organizations, clinical trials, clinical results, and drug patents related to this target.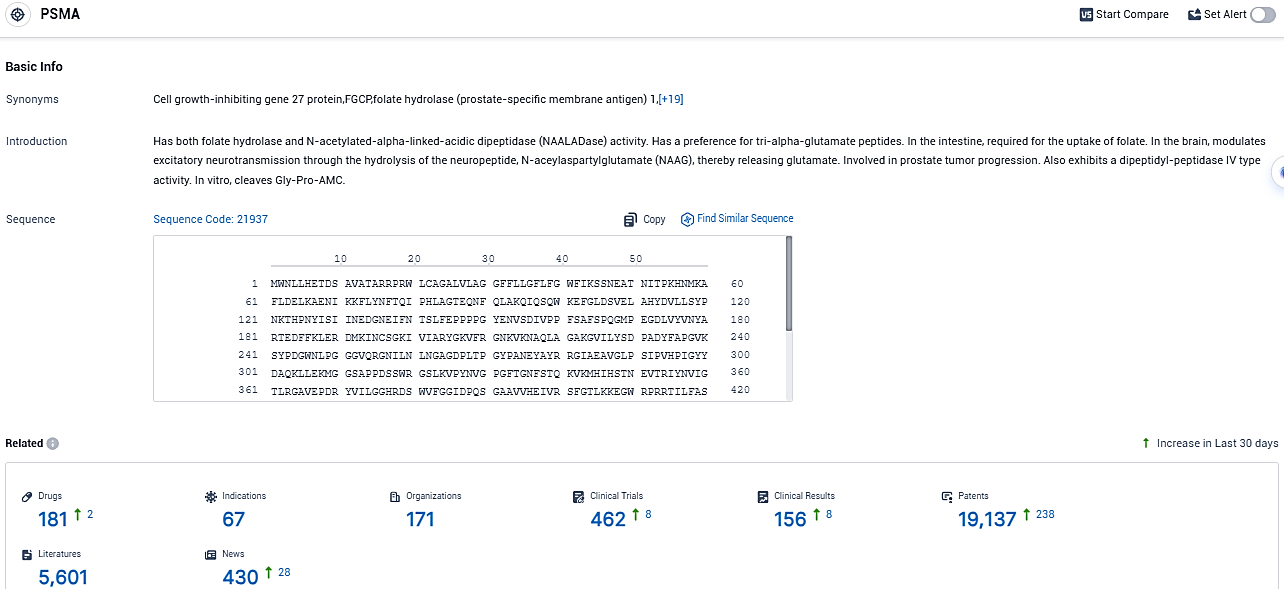 According to the data provided by the Synapse Database, As of November 19, 2023, there are 181 investigational drugs for the PSMA target, including 67 indications, 171 R&D institutions involved, with related clinical trials reaching 462, and as many as 19137 patents.
The development of Lutetium 177 DOTA rosopatamab represents a significant advancement in the field of biomedicine, particularly in the treatment of Prostatic Cancer. By targeting PSMA, the drug aims to improve the efficacy of treatment and potentially extend the survival of patients with advanced stages of the disease.