Patients with cancers driven by BRAF Class II (C II) or C III alterations and/or NRAS mutations are unlikely to benefit from approved BRAF-targeted therapies and have few other treatment options. On 14 Apr 2023, the clinical trial evaluating exarafenib (KIN-2787) in adult patients with BRAF-altered solid tumors and NRAS mutant melanoma was reported at the AACR Congress.
Exarafenib's R&D Progress
Exarafenib is a small molecule drug that falls under the category of biomedicine. It specifically targets the BRAF protein, which is involved in various cellular processes and has been implicated in the development of certain diseases, particularly neoplasms (abnormal growth of cells), skin and musculoskeletal diseases, and respiratory diseases.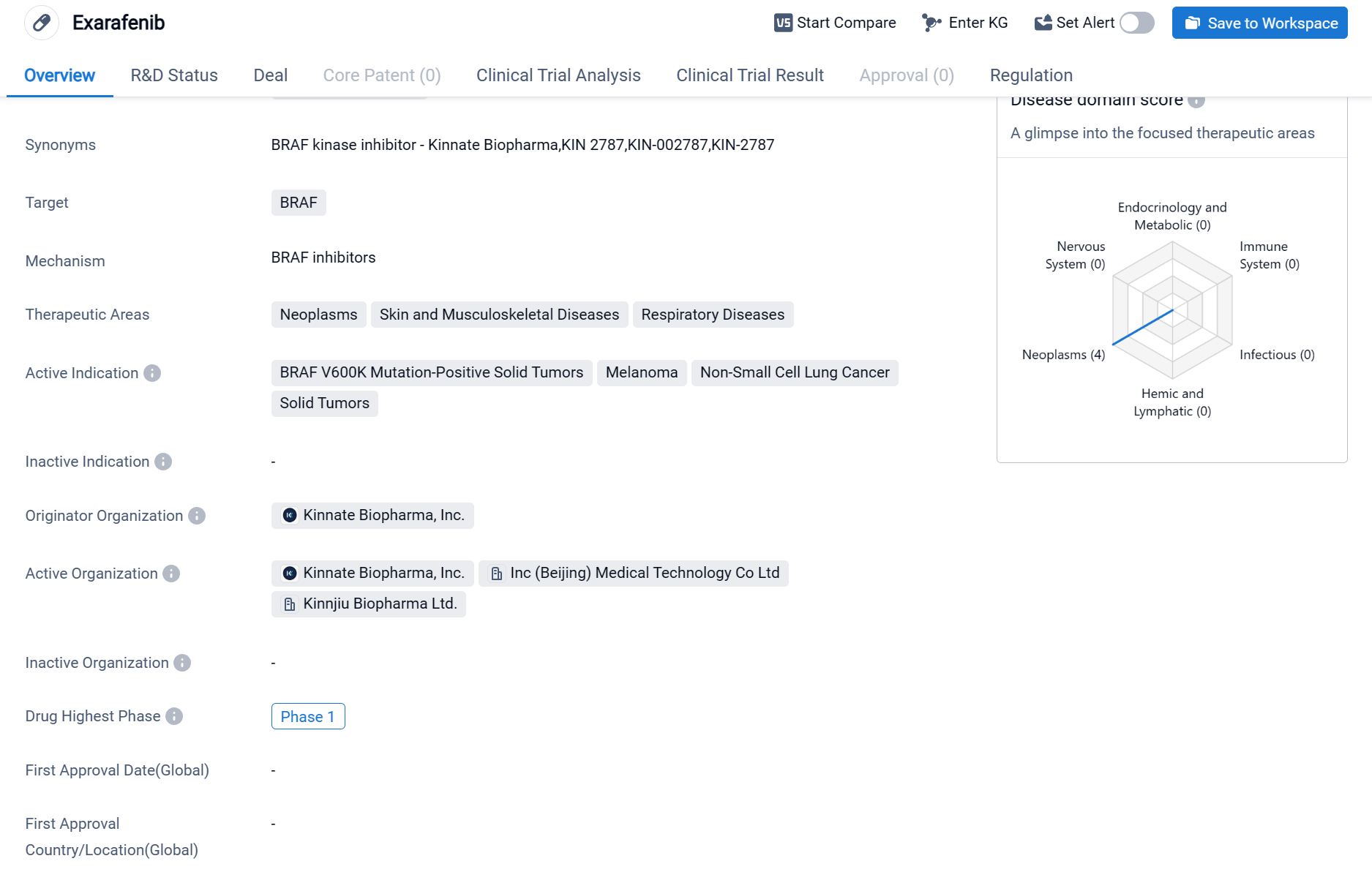 According to the Patsnap Synapse, currently, exarafenib has reached the highest phase of clinical development, which is Phase 1, globally. And the clinical trial areas for Exarafenib are primarily in the United States, China, and France. The key indication is Solid Tumors.

Detailed Clinical Result of Exarafenib
The non-randomized, sequential assignment, open-labeled clinical trial (NCT04913285) is an ongoing Phase 1 dose escalation & dose expansion study at 35 sites in 7 countries evaluating exarafenib monotherapy.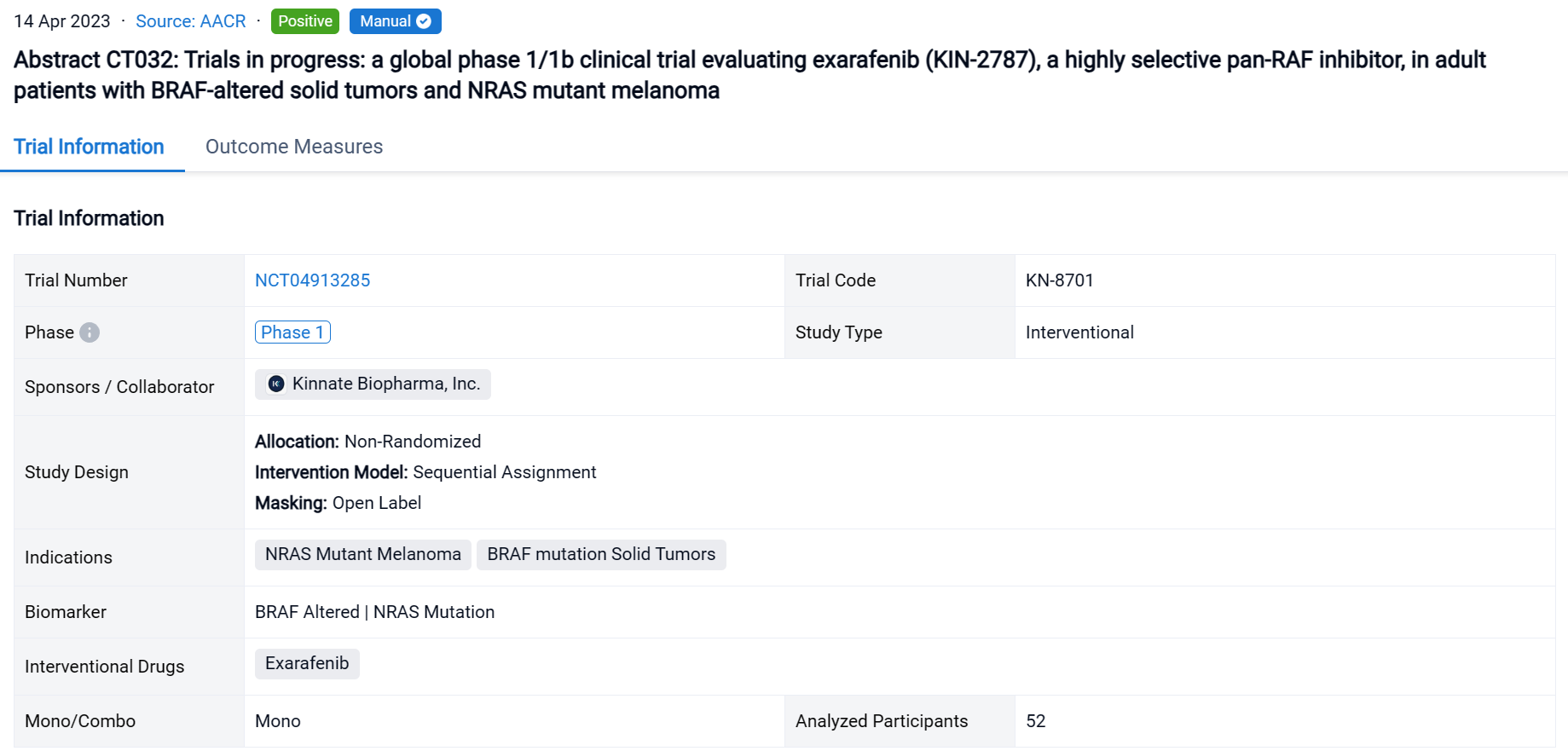 In this study, 52 pts (median age 63, 51.9% male) with advanced solid tumors harboring oncogenic BRAF or NRAS alterations were enrolled. Treated pts included those with solid tumors driven by BRAF C I (38.5%), C II (19.2%), C III (28.8%) alterations or melanoma pts with NRAS mutations (13.5%).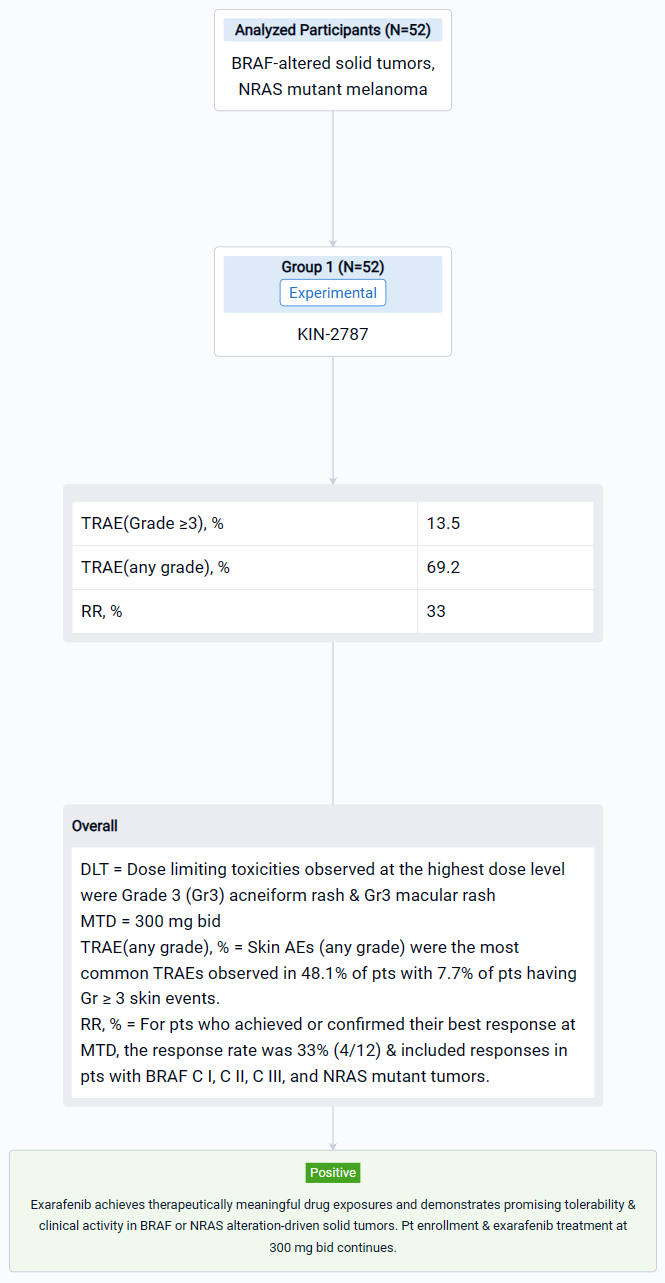 The result showed that steady state exarafenib exposure (Cmax and AUC) increased dose proportionally. Pathway inhibition & decreases in ctDNA were observed across BRAF classes & tumor types. Dose limiting toxicities observed at the highest dose level were Grade 3 (Gr3) acneiform rash & Gr3 macular rash. The maximum tolerated dose (MTD) was determined to be 300 mg bid. Treatment-related adverse events (TRAEs) (any grade) occurred in 69.2% of pts with 13.5% of pts having Gr ≥3 events. Skin AEs (any grade) were the most common TRAEs observed in 48.1% of pts with 7.7% of pts having Gr ≥ 3 skin events. GI TRAEs occurred in 19.2% pts (Gr 1-2 only), including diarrhea (1 pt, Gr 1). Reversible, asymptomatic Gr 3 increased ALT and/or increased AST AEs in 3 pts were the only non-skin Gr ≥ 3 TRAEs reported in ≥ 2 pts. At therapeutically relevant exposures, there was no cutaneous evidence of paradoxical activation. Of the 34 pts across all dose levels with at least 1 post-baseline tumor assessment, 6 pts (17.6%) had a partial response (5 confirmed at submission date) & 16 pts (47.1%) had stable disease including 8 pts (23.5%) with objective tumor shrinkage (up to 20%). The 6 responders all continue exarafenib therapy (treatment duration up to 12 months) and include 3 pts with BRAF C I alteration-driven cancers (inc. 1 RAFi + MEKi pre-treated melanoma pt) and 1 pt each with BRAF C II, BRAF C III-driven & NRAS-mutation driven cancers. For pts who achieved or confirmed their best response at MTD, the response rate was 33% (4/12) & included responses in pts with BRAF C I, C II, C III, and NRAS mutant tumors.
It can be concluded that Exarafenib achieves therapeutically meaningful drug exposures and demonstrates promising tolerability & clinical activity in BRAF or NRAS alteration-driven solid tumors.
How to Easily View the Clinical Results Using Synapse Database?
If you want to know the other clinical results of popular conferences, please lick on the "Clinical Results" on the homepage of Patsnap Synapse, which provides multi-dimensional screening and filtering of drugs, indications, targets, companies, result evaluation, release date, popular conferences, etc. to help you quickly locate the data you need.
Select the clinical meeting you are interested in, such as ESMO. In the results, you can quickly locate the data you want to view by indication, phase and drug name.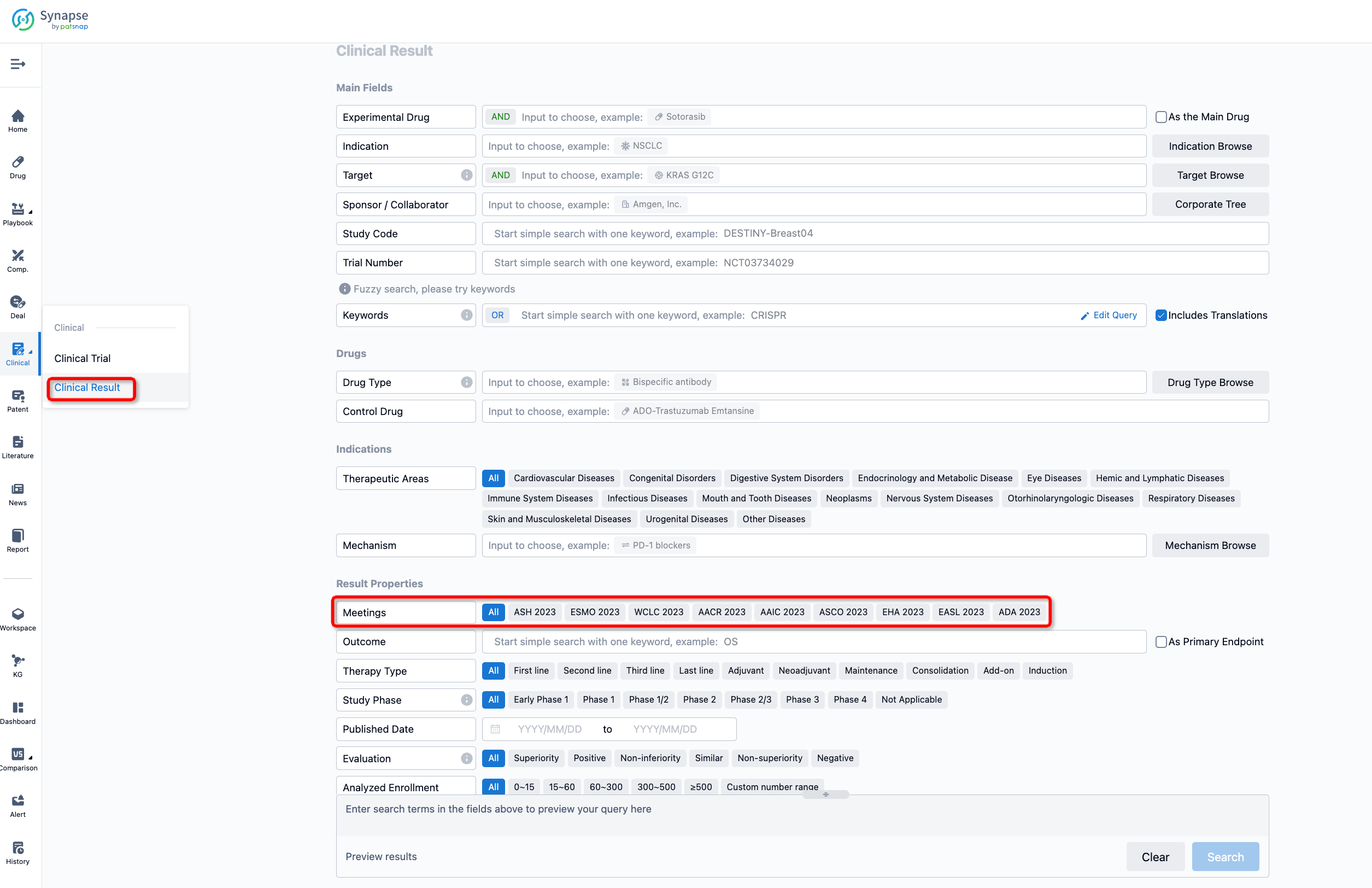 A single result clearly shows important information such as registration number, phase, indication, Sponsor/Collaborator, biomarker, Trial number, dosing regimen and more.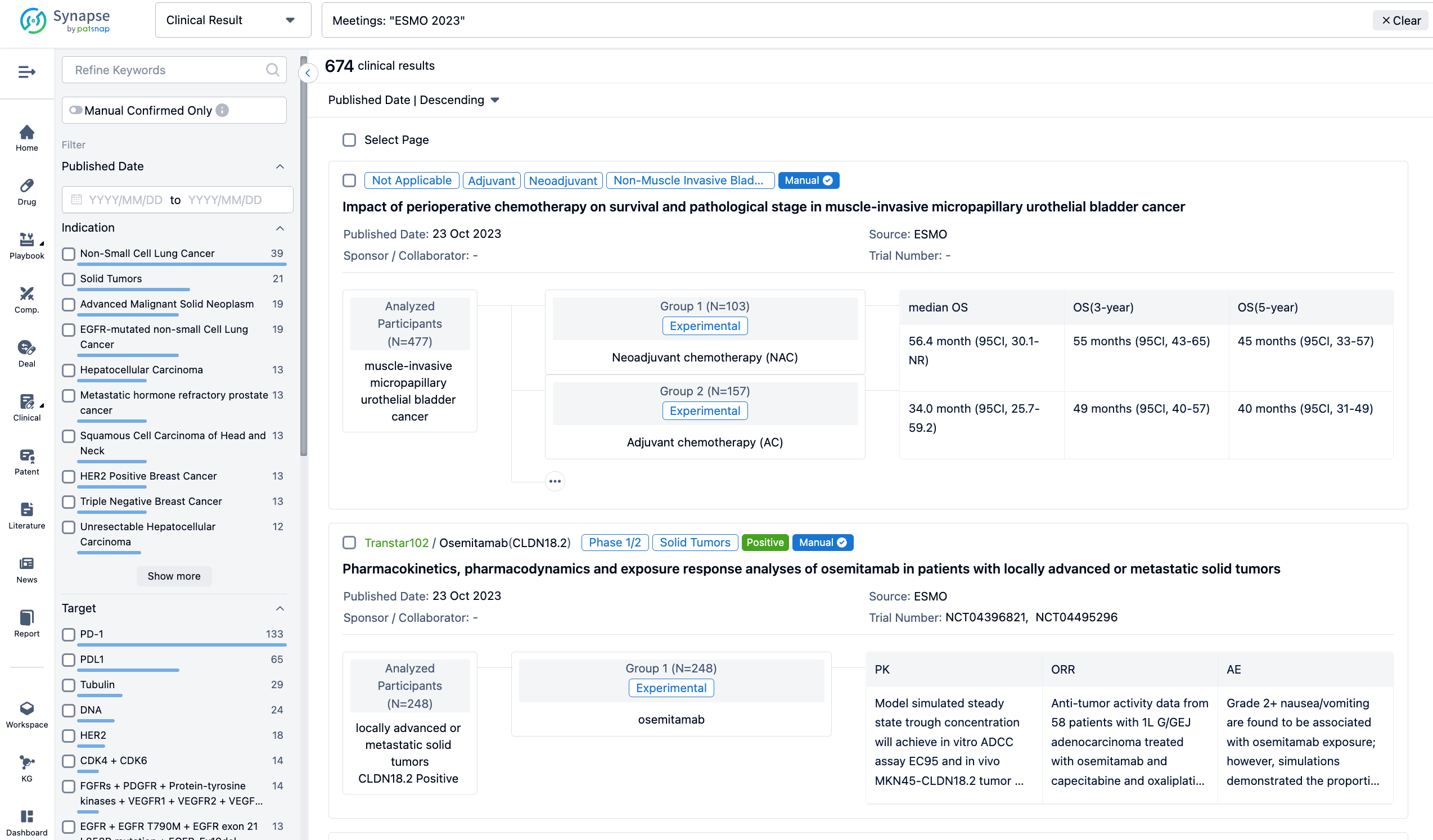 If you would like to view more information about this result, you can go to the result detail page by clicking on the title.
Above the headings, we provide the original source of the outcome data. The basic information is supplemented with more information beyond the list, such as company, study. design, etc.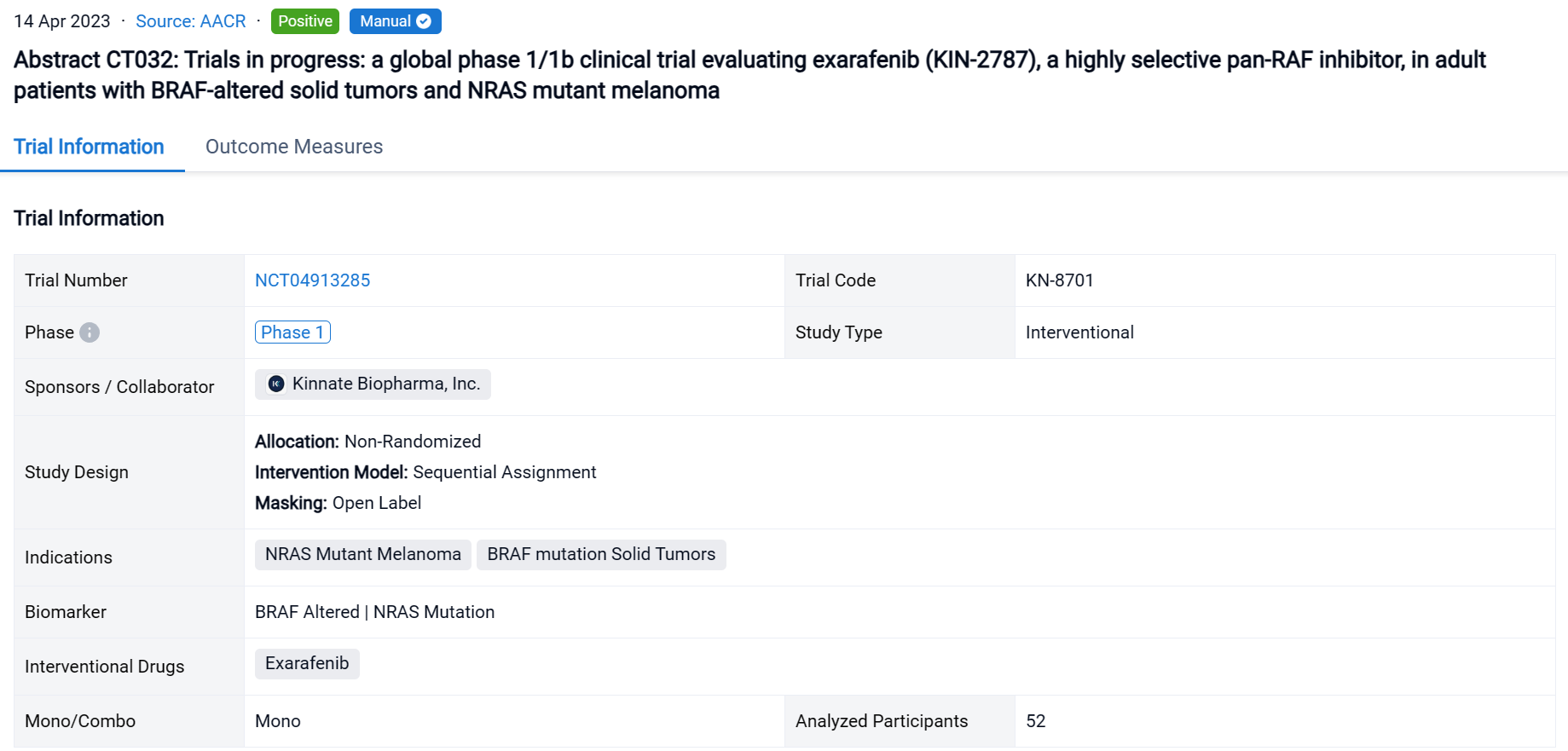 In the important Outcome Measures section, we provide both list and flowchart forms, which are convenient for you to overview the comparison group information and core indicator data.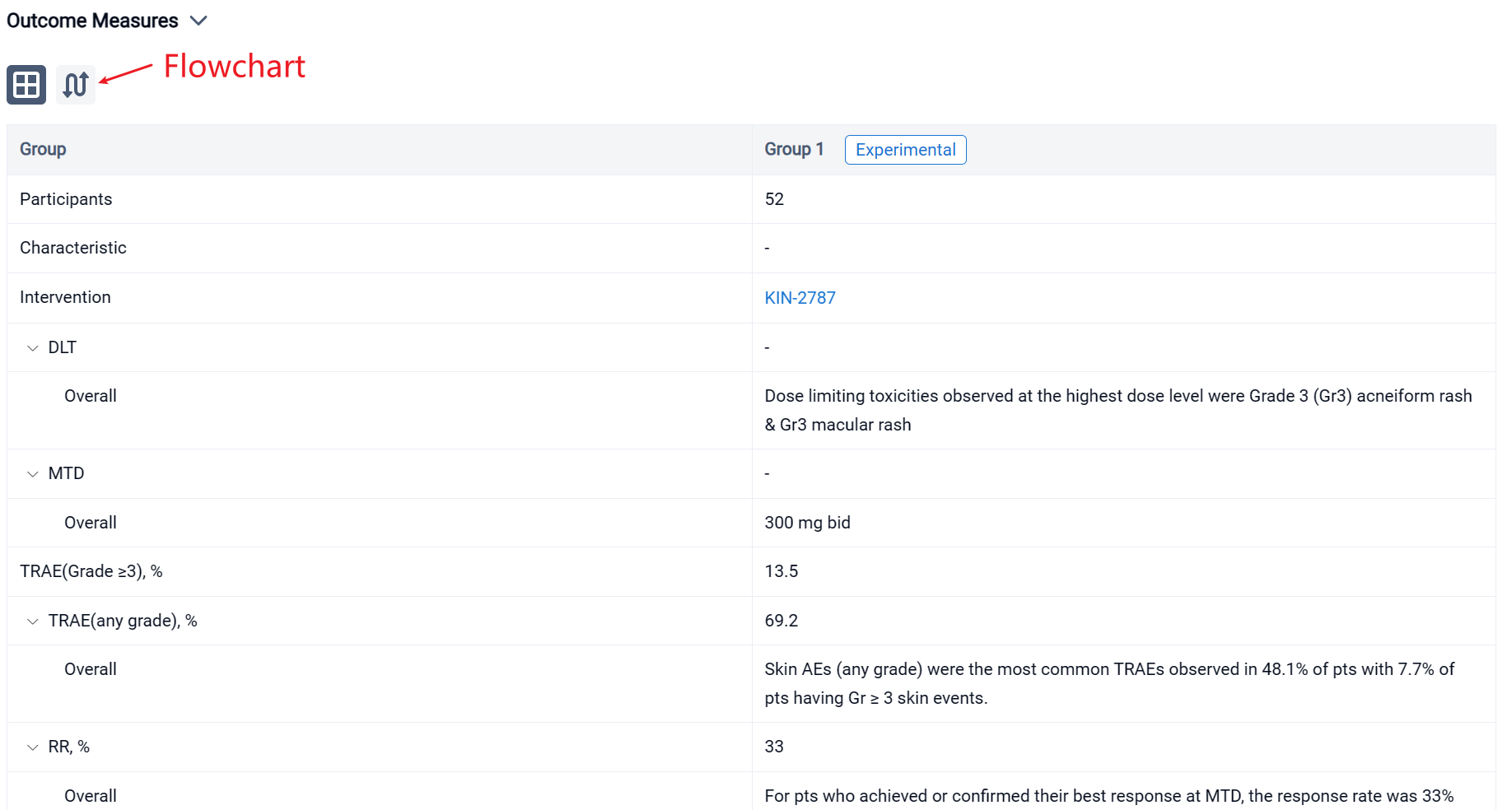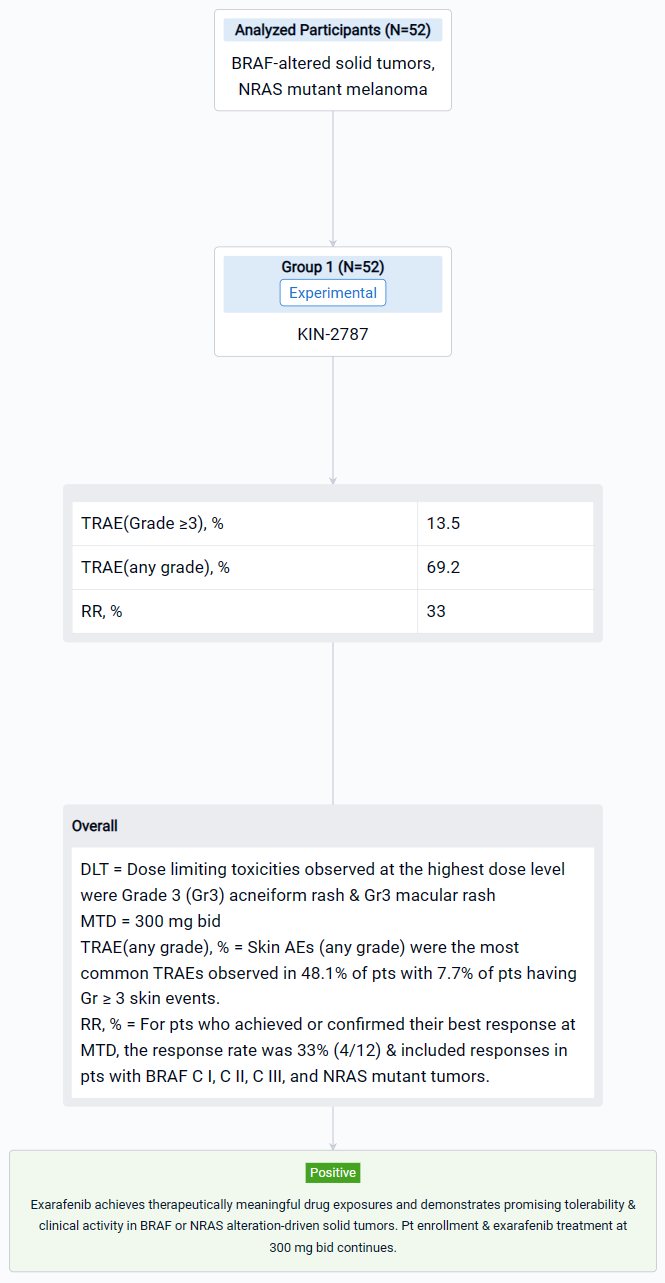 Finally, if you need to download these results, you can conveniently check the check boxes on the left side of the list, or directly click the "Export" button to download the data for personalized analysis and file sharing.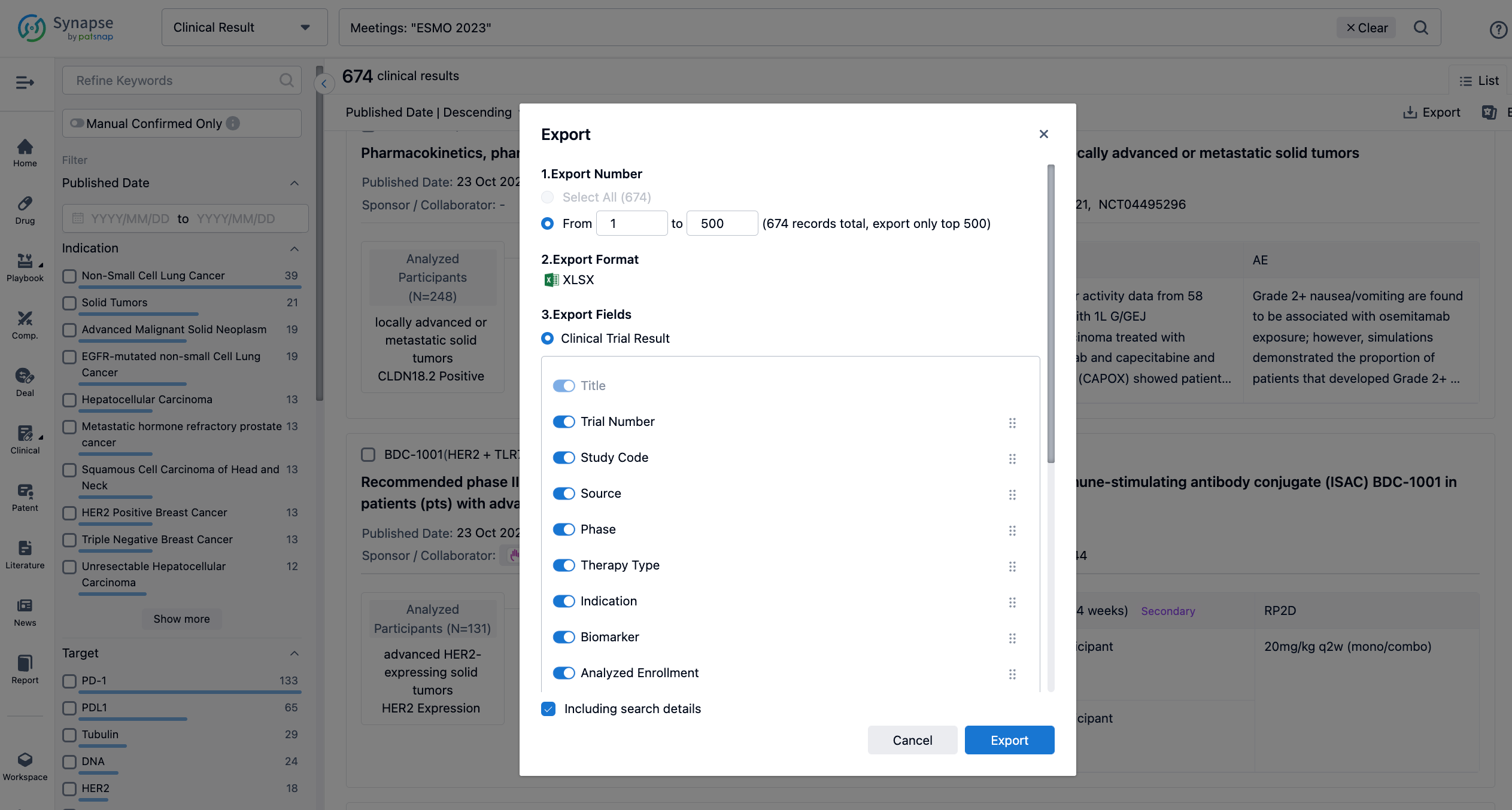 Click on the image below to embark on a brand new journey of drug discovery!