Zimberelimab's R&D Progress
Zimberelimab is a monoclonal antibody drug that targets PD-1, a protein involved in regulating the immune system. It has been developed by Harbin Gloria Pharmaceuticals Co., Ltd. and has received approval for use in various therapeutic areas. These areas include neoplasms (abnormal growth of cells), digestive system disorders, immune system diseases, infectious diseases, nervous system diseases, cardiovascular diseases, endocrinology and metabolic diseases, hemic and lymphatic diseases, skin and musculoskeletal diseases, urogenital diseases, and respiratory diseases.
The drug has shown efficacy in treating several types of cancers, including uterine cervical cancer, Hodgkin's lymphoma, lung cancer, squamous cell carcinoma, non-small cell lung cancer, etc.
Zimberelimab has received approval in China, with its first approval dating back to August 2021. It is classified as a breakthrough therapy, indicating its potential to provide significant benefits over existing treatments for certain conditions. The drug has also reached the highest phase of development, with global approval.
As a monoclonal antibody targeting PD-1, Zimberelimab works by blocking the interaction between PD-1 and its ligands, PD-L1 and PD-L2. This helps to restore the immune system's ability to recognize and attack cancer cells. By targeting PD-1, Zimberelimab has shown promise in improving outcomes for patients with various types of cancer.
👇Please click on the image below to directly access the latest data (R&D Status | Core Patent | Clinical Trial | Approval status in Global countries) of this drug.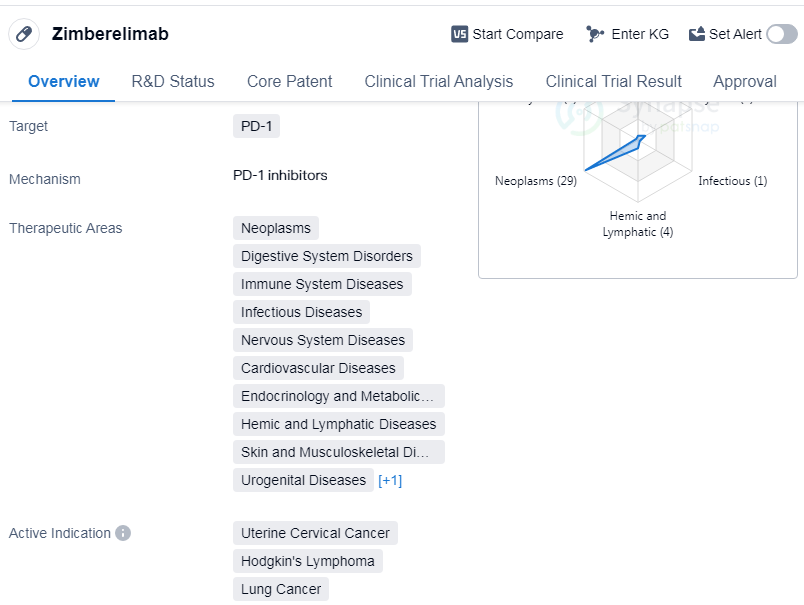 Mechanism of Action for Zimberelimab: PD-1 inhibitors
PD-1 inhibitors are a type of medication used in biomedicine to treat certain types of cancer. PD-1 stands for programmed cell death protein 1, which is a protein found on the surface of immune cells. This protein helps regulate the immune system by preventing it from attacking healthy cells in the body. However, some cancer cells can hijack this mechanism and use PD-1 to evade the immune system.
PD-1 inhibitors work by blocking the PD-1 protein, which allows the immune system to recognize and attack cancer cells more effectively. By inhibiting PD-1, these medications help unleash the body's natural immune response against cancer. They are often used in the treatment of advanced melanoma, lung cancer, kidney cancer, bladder cancer, and other types of cancer.
These inhibitors are typically administered through intravenous infusion or injection. Common examples of PD-1 inhibitors include pembrolizumab and nivolumab. While they can be effective in treating cancer, PD-1 inhibitors may also have side effects, including fatigue, rash, diarrhea, and immune-related adverse events. Close monitoring and management of these side effects are important during treatment.
Overall, PD-1 inhibitors have revolutionized cancer treatment by harnessing the power of the immune system to fight against cancer cells. They have significantly improved the outcomes and survival rates for patients with certain types of cancer.
Drug Target R&D Trends for Zimberelimab
According to Patsnap Synapse, as of 14 Sep 2023, there are a total of 311 PD-1 drugs worldwide, from 340 organizations, covering 288 indications, and conducting 7733 clinical trials.
The analysis of the target PD-1 reveals a competitive landscape with several companies actively involved in research and development. Akeso, Inc., Bristol Myers Squibb Co., and Merck & Co., Inc. are the leading companies in terms of drug development. PD-1 inhibitors have shown significant success in treating indications such as Hodgkin's lymphoma, non-small cell lung cancer, and melanoma. Monoclonal antibodies dominate the drug types, but there is also promising progress in other types such as CAR-T and oncolytic viruses. China is at the forefront of PD-1 inhibitor development, followed by the United States and the European Union. Overall, the target PD-1 presents a competitive landscape with ongoing research and potential for future advancements in the field.
👇Please click on the picture link below for free registration or log in directly if you have a freemium account, you can browse the latest research progress on drugs, indications, organizations, clinical trials, clinical results, and drug patents related to this target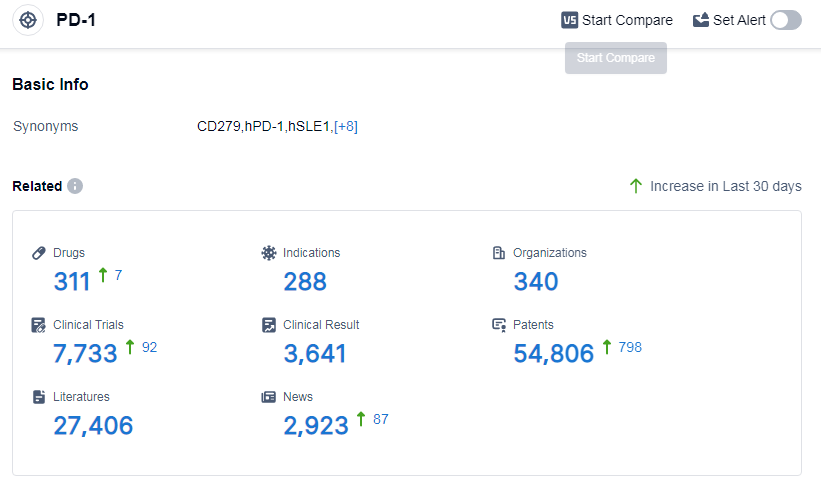 Conclusion
In summary, Zimberelimab is a monoclonal antibody drug developed by Harbin Gloria Pharmaceuticals Co., Ltd. It targets PD-1 and has received approval for use in multiple therapeutic areas, particularly in the treatment of various types of cancer. Its breakthrough therapy designation and global approval highlight its potential as an effective treatment option.