Isocitrate dehydrogenase 1/2 (IDH1/2) is mutated in a subset of cholangiocarcinoma (CCA), gliomas, and other solid tumors. And the first-in-human phase 1 study of LY3410738, a covalent inhibitor of mutant IDH, in advanced IDH-mutant cholangiocarcinoma and other solid tumors was reported at the AACR Congress, which will set the scene for subsequent analysis of its outcomes.
LY-3410738's R&D Progress
LY-3410738 is a small molecule drug that targets IDH1, an enzyme involved in cellular metabolism. It is being developed by Eli Lilly & Co., a pharmaceutical company known for its expertise in the field of biomedicine. The drug has shown potential in treating various therapeutic areas, including neoplasms, nervous system diseases, hemic and lymphatic diseases, as well as skin and musculoskeletal diseases. Specifically, LY-3410738 has demonstrated efficacy in the treatment of acute myeloid leukemia, chronic myelomonocytic leukemia, myelodysplastic syndromes, myeloproliferative disorders, cholangiocarcinoma, chondrosarcoma, glioma, HR-positive/HER2-low advanced solid tumors, and hematologic neoplasms.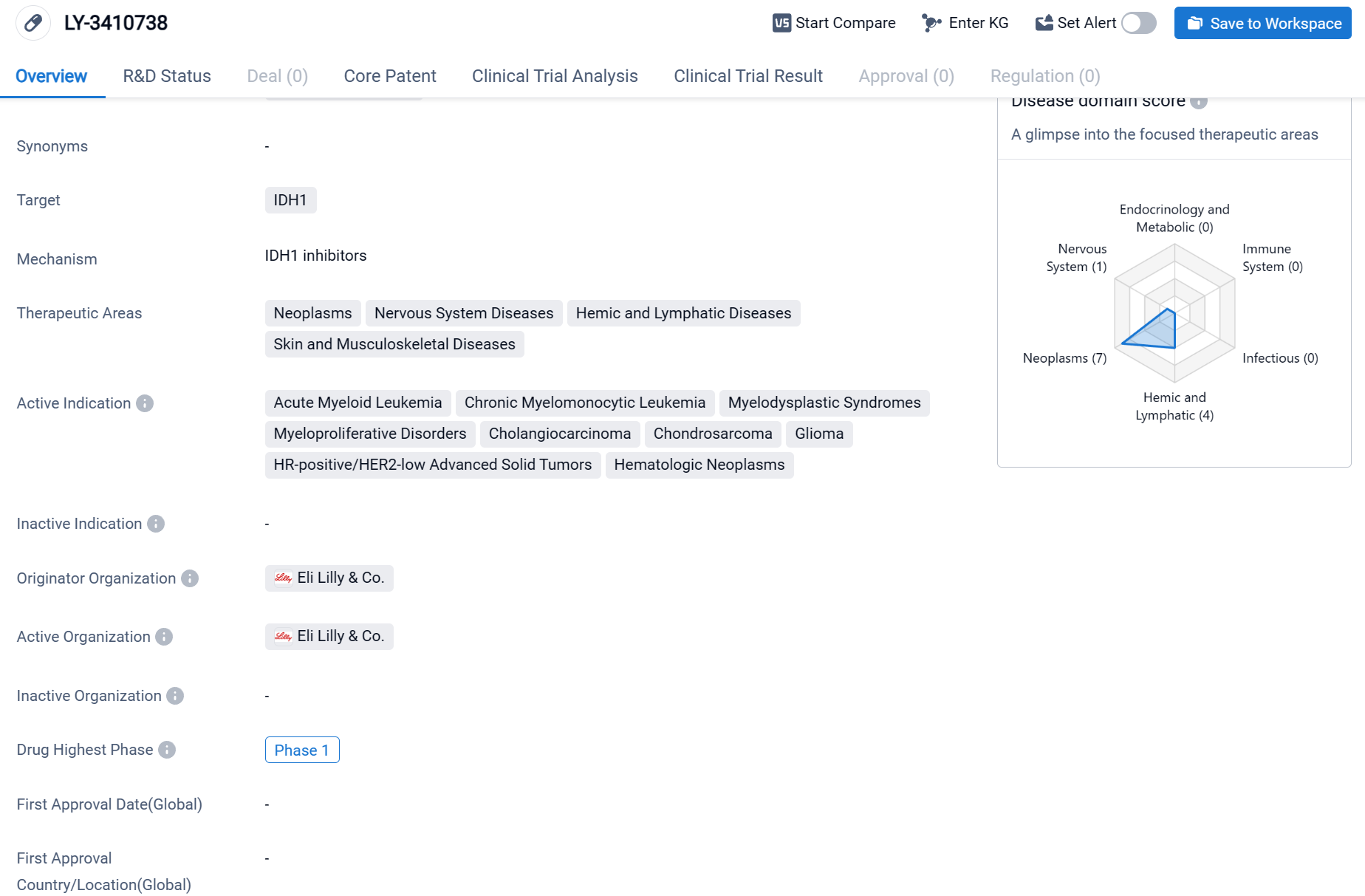 According to the Patsnap Synapse, currently, LY-3410738 is in the highest phase of clinical development, which is Phase 1 globally. And the clinical trial areas for LY-3410738 are primarily in the United States, China, and France. The key indication is Acute Myeloid Leukemia.

Detailed Clinical Result of LY-3410738
The single group assignment, open-labeled clinical trial (NCT04521686) was aimed to evaluate the efficacy and safety of LY3410738 in patients (pts) with IDH1/2m CCA, and IDH1m glioma or other solid tumors.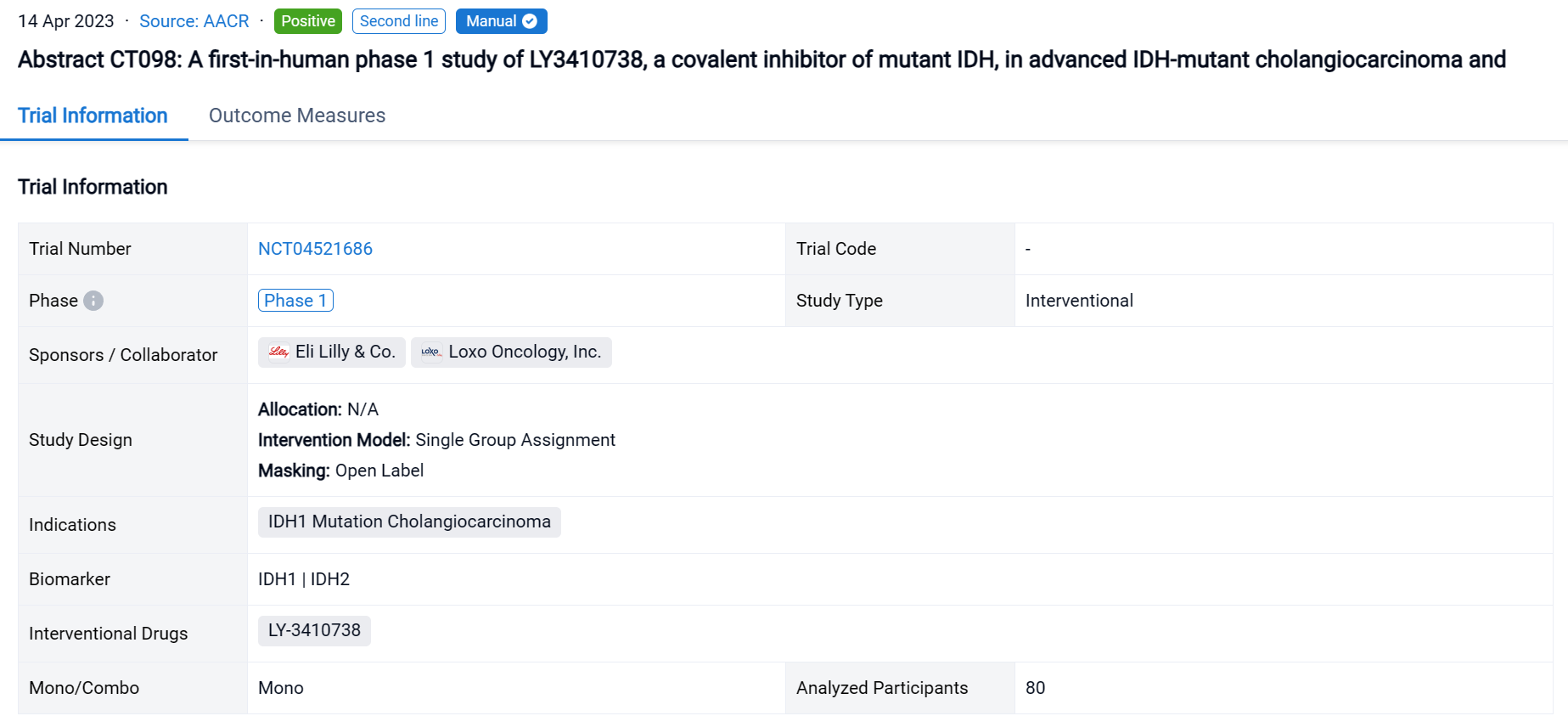 In this study, dose escalation (3+3 design) evaluated LY3410738 monotherapy in advanced IDHm CCA and other solid tumors (NCT04521686). Key objectives included determining the RP2D, safety, PK, PD (inhibition of plasma D-2-HG), and preliminary antitumor activity.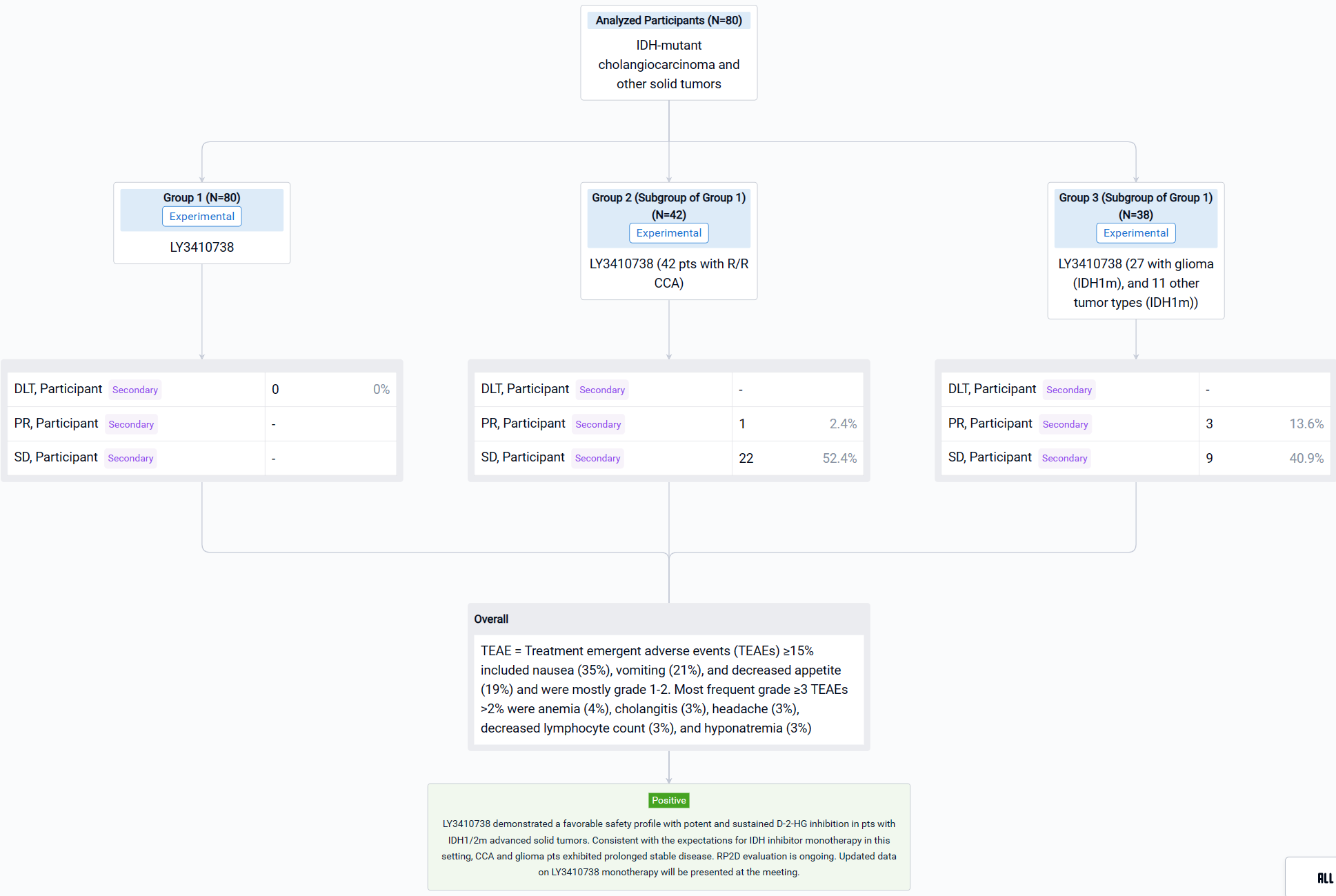 The result showed that as of 28 July 2022, 80 pts including 42 with CCA (33 IDH1m, 9 IDH2m), 27 with glioma (IDH1m), and 11 other tumor types (IDH1m) received LY3410738 dosed at 25-600 mg QD or 300 mg BID. Pts were median 52 years of age (range, 23-80) with a median of 2 prior therapies (range, 1-7). 19% of CCA pts had received prior IDH1 inhibitor. Median time on treatment was 3.7 months (range, 0.1-19). No DLTs or treatment related deaths were observed; the MTD was not reached. Treatment emergent adverse events (TEAEs) ≥15% included nausea (35%), vomiting (21%), and decreased appetite (19%) and were mostly grade 1-2. Most frequent grade ≥3 TEAEs >2% were anemia (4%), cholangitis (3%), headache (3%), decreased lymphocyte count (3%), and hyponatremia (3%). LY3410738 exposure was dose proportional. In pts with IDH1m cancers, LY3410738 achieved sustained D-2-HG inhibition at all dose levels, including in pts who received prior IDH1 inhibitor. In pts with IDH2m cancers, a higher dose (≥150 mg daily dose) was required for D-2-HG inhibition. Among the 42 pts with R/R CCA, the best response included 1 PR and 22 SD. Of the 22 glioma pts with contrast enhancing tumors, best response included 3 PR and 9 SD.
It can be concluded that LY3410738 demonstrated a favorable safety profile with potent and sustained D-2-HG inhibition in pts with IDH1/2m advanced solid tumors. Consistent with the expectations for IDH inhibitor monotherapy in this setting, CCA and glioma pts exhibited prolonged stable disease. RP2D evaluation is ongoing. Updated data on LY3410738 monotherapy will be presented at the meeting.
How to Easily View the Clinical Results Using Synapse Database?
If you want to know the other clinical results of popular conferences, please lick on the "Clinical Results" on the homepage of Patsnap Synapse, which provides multi-dimensional screening and filtering of drugs, indications, targets, companies, result evaluation, release date, popular conferences, etc. to help you quickly locate the data you need.
Select the clinical meeting you are interested in, such as ESMO. In the results, you can quickly locate the data you want to view by indication, phase and drug name.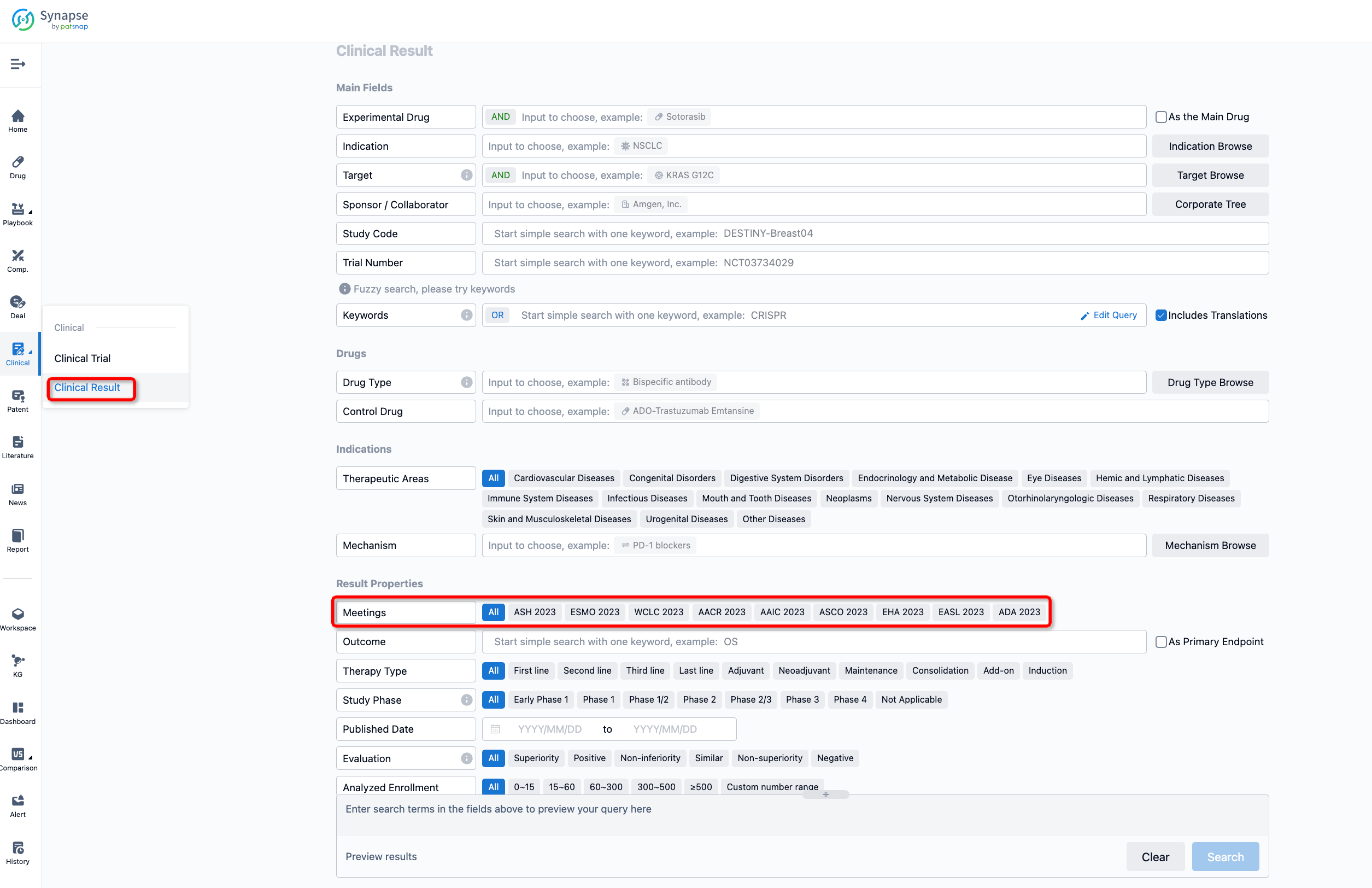 A single result clearly shows important information such as registration number, phase, indication, Sponsor/Collaborator, biomarker, Trial number, dosing regimen and more.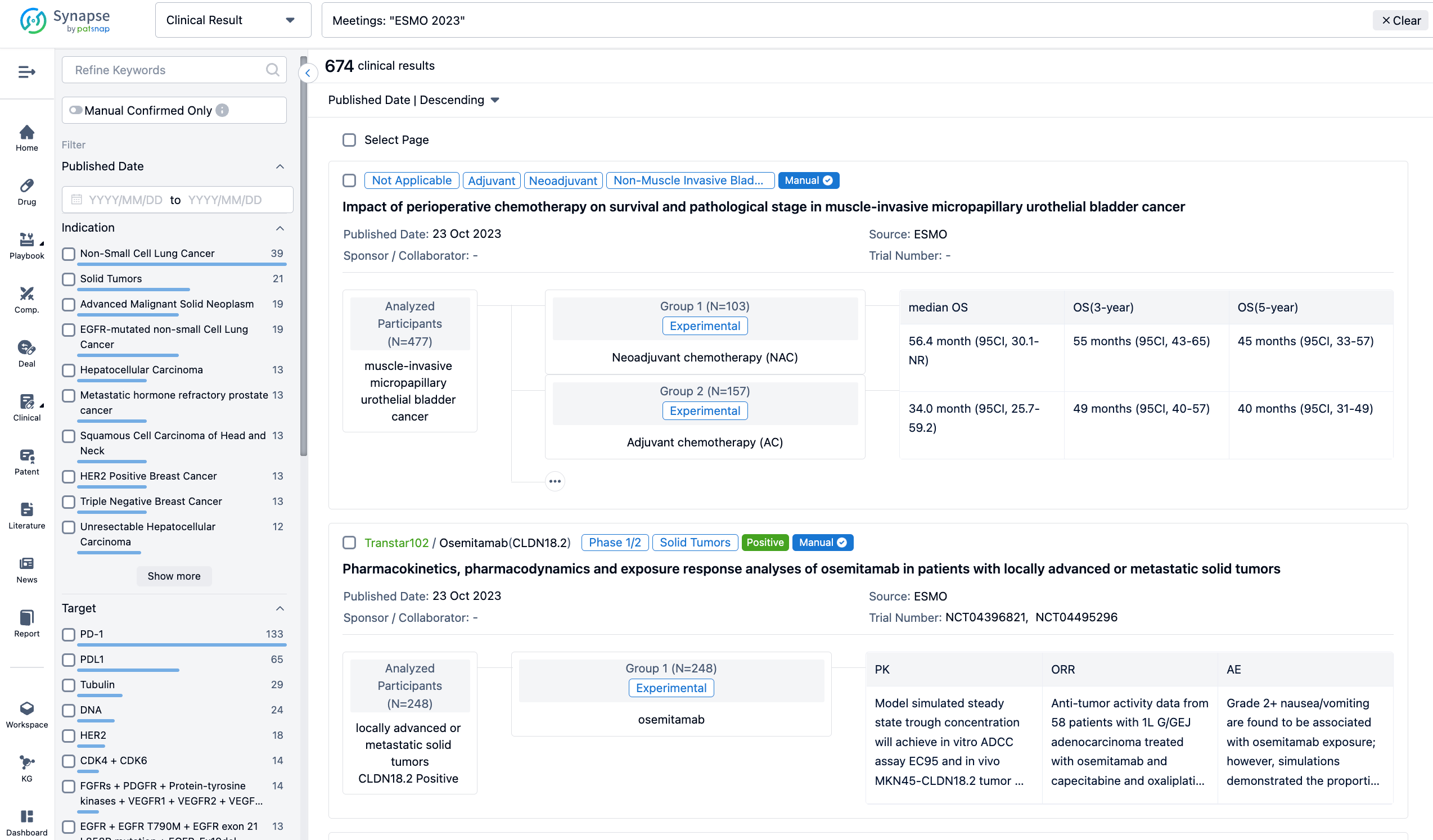 If you would like to view more information about this result, you can go to the result detail page by clicking on the title.
Above the headings, we provide the original source of the outcome data. The basic information is supplemented with more information beyond the list, such as company, study. design, etc.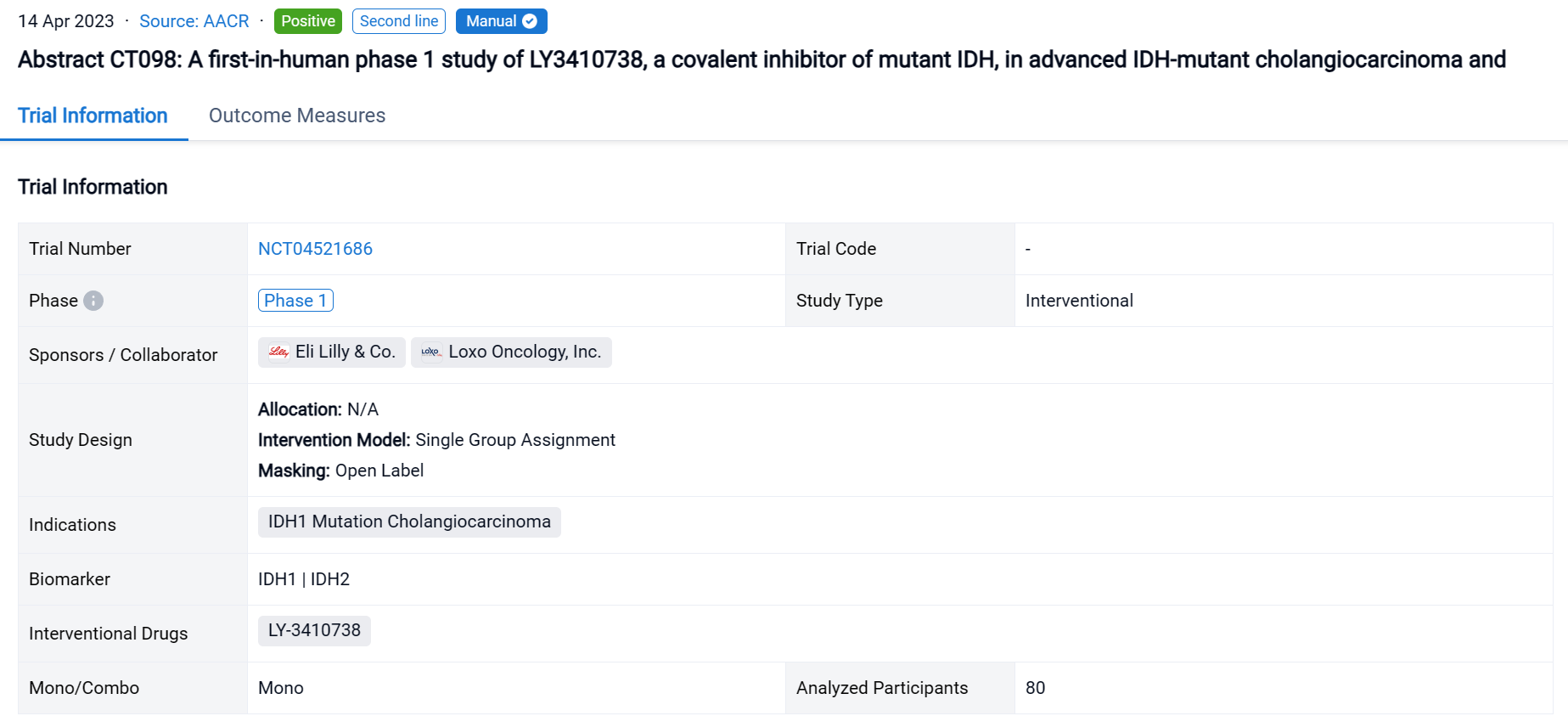 In the important Outcome Measures section, we provide both list and flowchart forms, which are convenient for you to overview the comparison group information and core indicator data.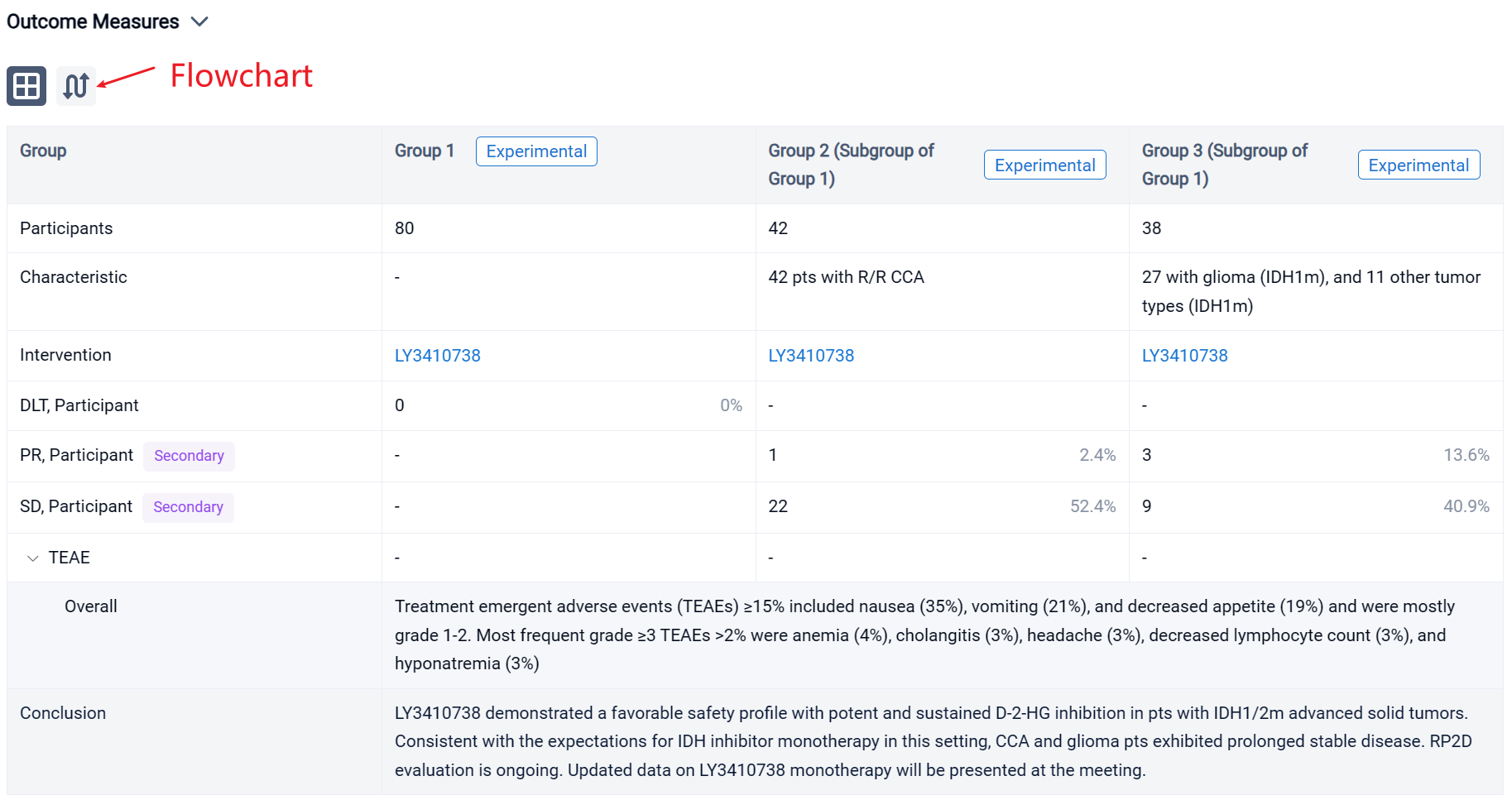 Finally, if you need to download these results, you can conveniently check the check boxes on the left side of the list, or directly click the "Export" button to download the data for personalized analysis and file sharing.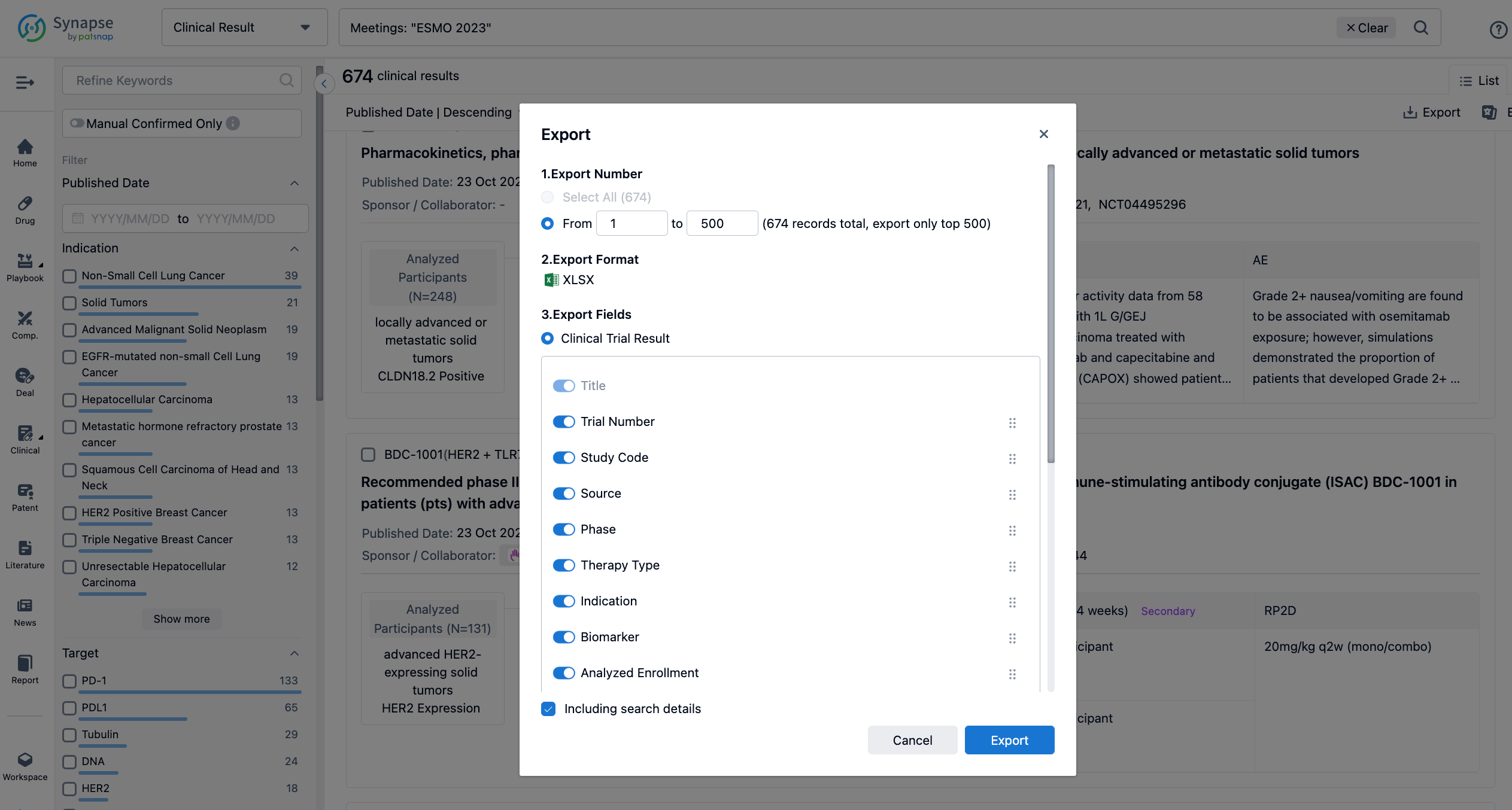 Click on the image below to embark on a brand new journey of drug discovery!