The latest clinical findings of Ianalumab were unveiled at the 2023 AACR Congress, demonstrating its potential effect and setting the stage for subsequent investigations.
Ianalumab's R&D Progress
Ianalumab is a monoclonal antibody drug that targets BAFF-R, a protein involved in the regulation of B-cell survival and maturation. It is being developed by MorphoSys AG, a pharmaceutical company specializing in the field of biomedicine. The therapeutic areas that Ianalumab aims to address are diverse and include neoplasms, immune system diseases, hemic and lymphatic diseases, digestive system disorders, skin and musculoskeletal diseases, eye diseases, mouth and tooth diseases, as well as other diseases.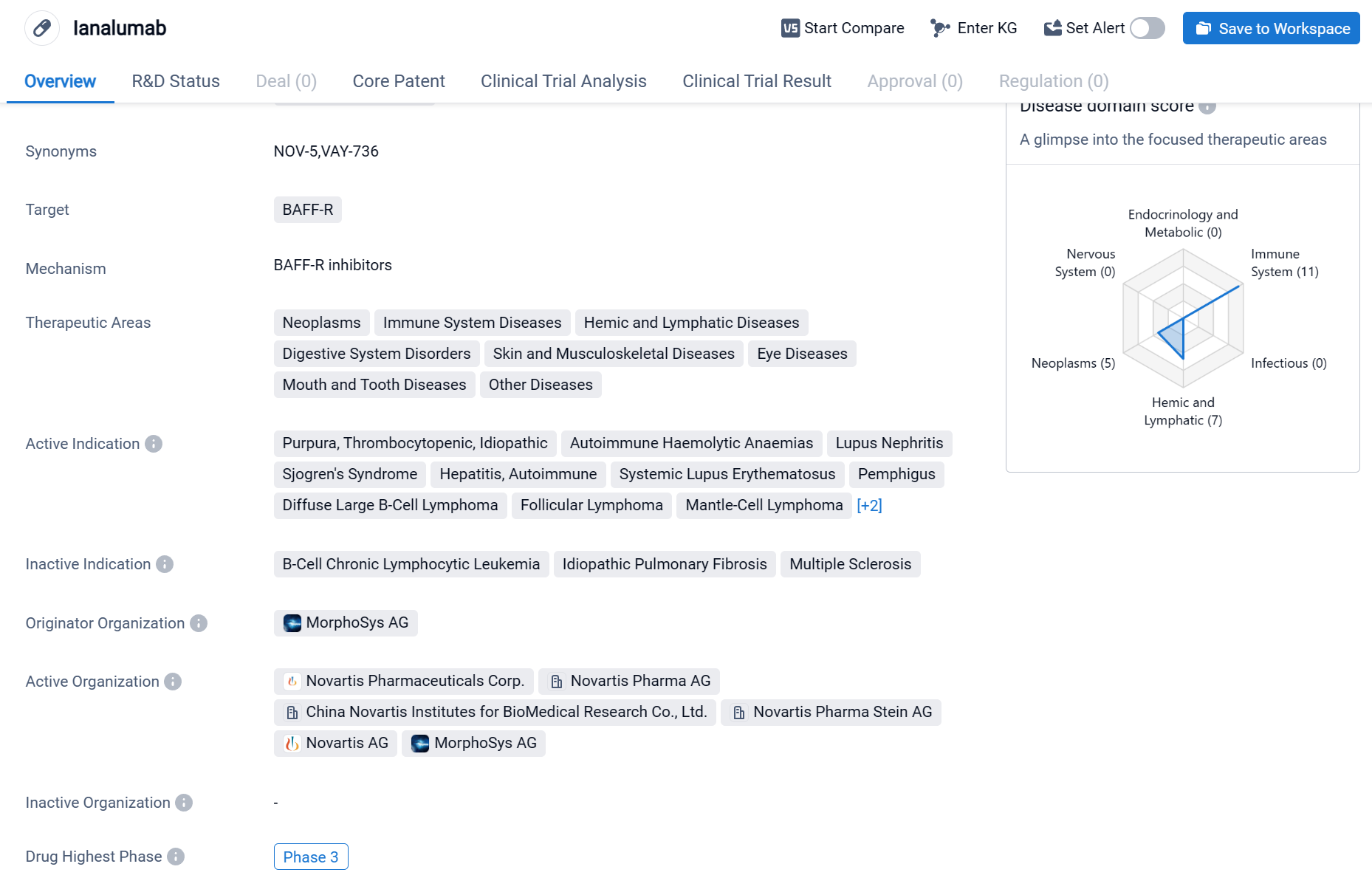 According to the Patsnap Synapse, currently, Ianalumab is in the highest phase of clinical development, Phase 3 globally. And the clinical trial areas for Ianalumab are primarily in the United States, China, and United Kingdom. The key indication is Immune System Diseases.

Detailed Clinical Result of Ianalumab
The non-randomized, single group assignment, open-labeled clinical trial (NCT03400176) was aimed to assess the clinical and pharmacodynamic (PD) profiles of patients (pts) with chronic lymphocytic leukemia (CLL) on ianalumab (VAY736) + ibrutinib.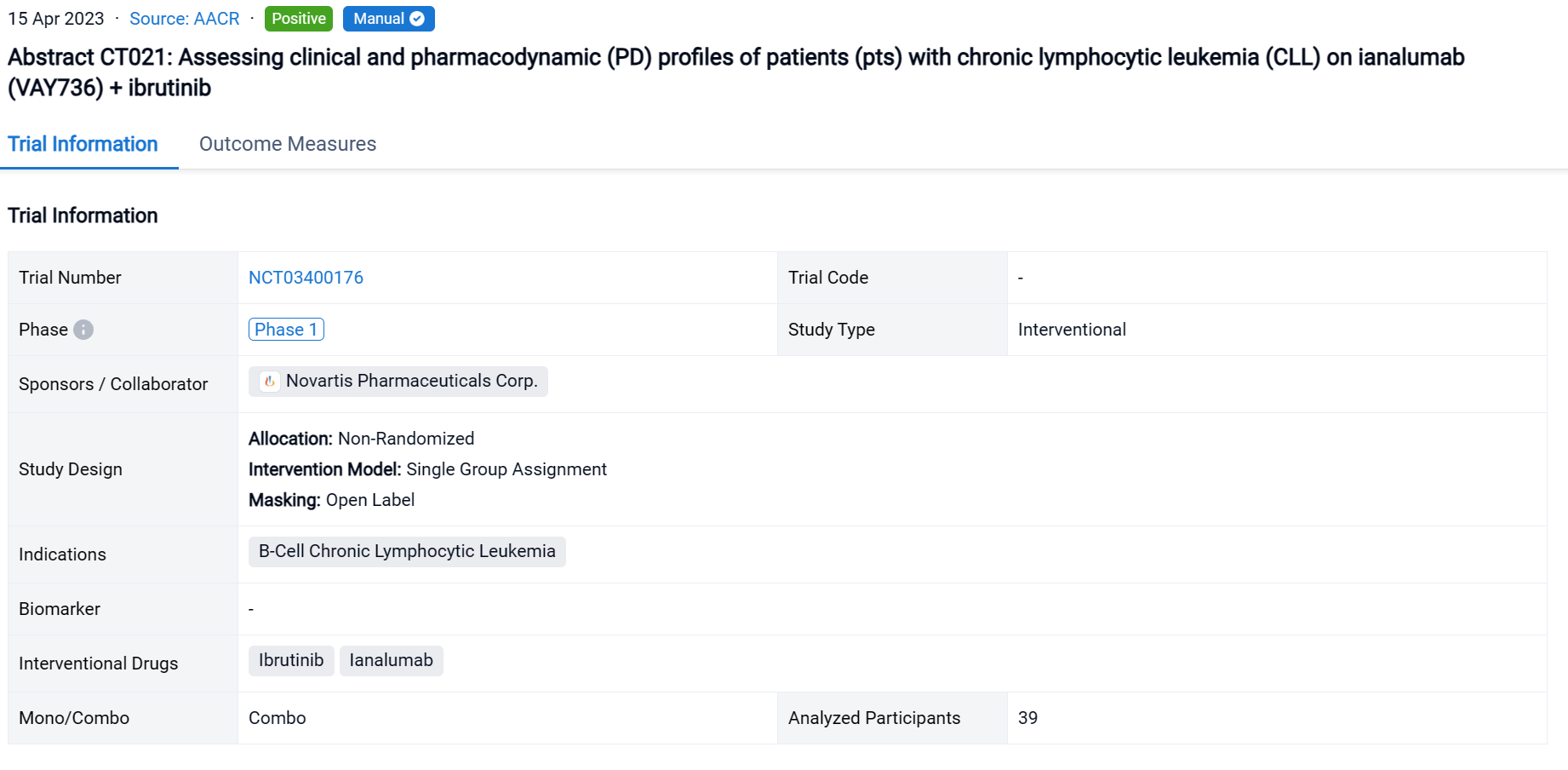 In this study, pts with CLL who did not achieve a complete response (CR) after >1 year of ibrutinib or had developed a resistance mutation to ibrutinib were enrolled. Pts received IV VAY736 (ESC: 0.3-9 mg/kg; EXP: 3 mg/kg) once every 2 weeks and oral ibrutinib (420 mg) once daily for up to 8 28-day cycles. Pts achieving undetectable MRD (uMRD) at C9D1 could discontinue ibrutinib at investigator discretion. The study aimed to characterize the safety and tolerability of VAY736 + ibrutinib, assess antitumor activity, PK, and characterize PD profiles.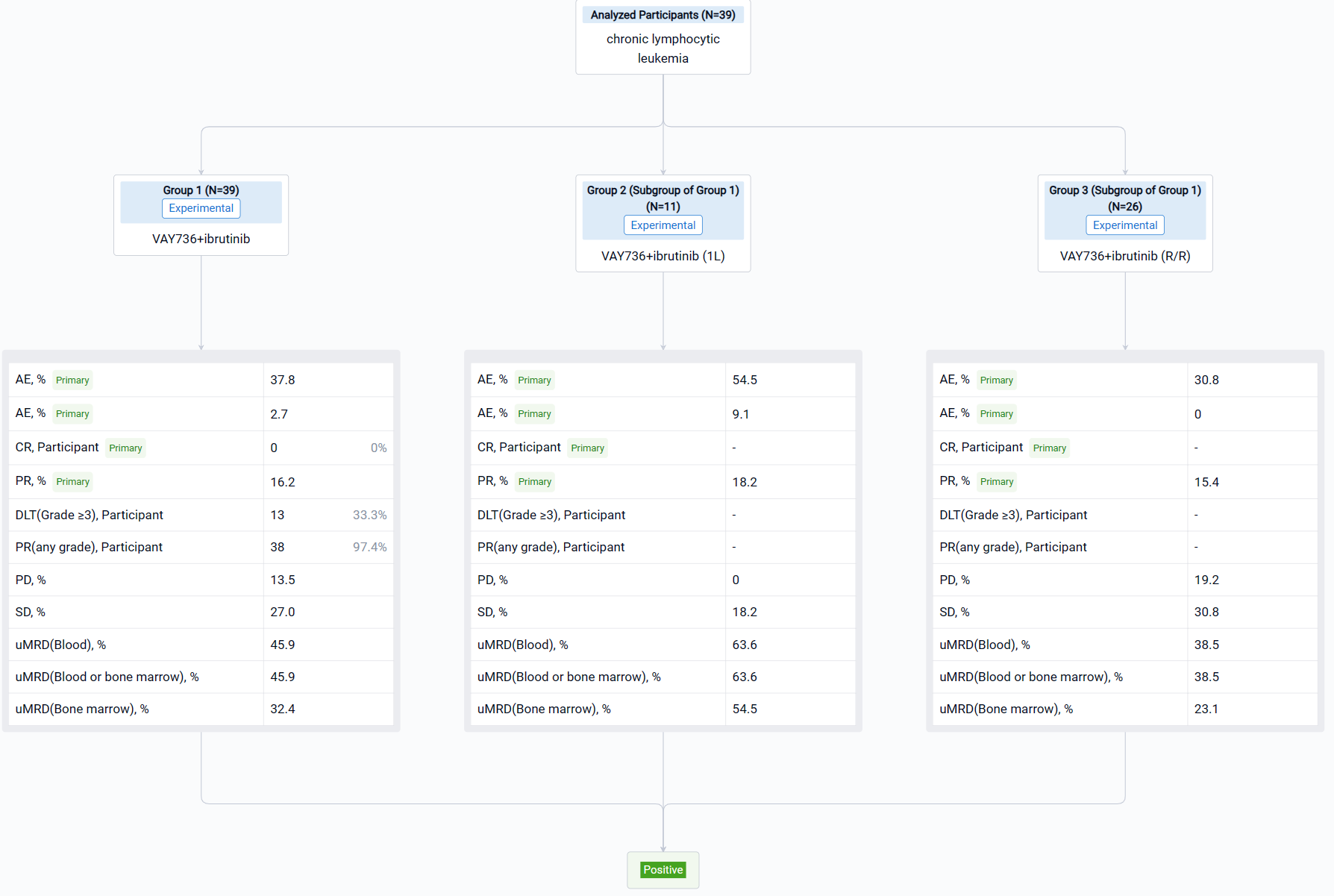 The result showed that By Jul 29, 2022, 39 pts were enrolled (ESC: n=15; EXP: n=24). The overall response at C9D1 for 37 evaluable pts was 40.5% CR + CRi and 16.2% PR (1L: 63.6% CR + CRi and 18.2% PR). At C9D1, 17 pts (45.9%) had uMRD in blood or bone marrow (BM). In the 2-year follow-up period, 16 pts discontinued ibrutinib and were off therapy for 4.9-19.8 months. Frequency of peripheral NKp46+ NK cells increased at least 50% after VAY736 in over 50% of pts. Preliminary coverage-based limiting-cell experiment analysis of RNAseq (CLEAR) data from 10 pts supports peripheral NK cell activation with VAY736.
It can be concluded that VAY736 + ibrutinib appears highly active and has an acceptable safety profile. Multiple pts attained uMRD in blood or BM. Biomarker data suggest NK cell activation with VAY736. More pts will be included in the RNAseq analysis at presentation. Future development of VAY736 for CLL is strongly indicated based on these promising data.
How to Easily View the Clinical Results Using Synapse Database?
If you want to know the other clinical results of popular conferences, please lick on the "Clinical Results" on the homepage of Patsnap Synapse, which provides multi-dimensional screening and filtering of drugs, indications, targets, companies, result evaluation, release date, popular conferences, etc. to help you quickly locate the data you need.
Select the clinical meeting you are interested in, such as ESMO. In the results, you can quickly locate the data you want to view by indication, phase and drug name.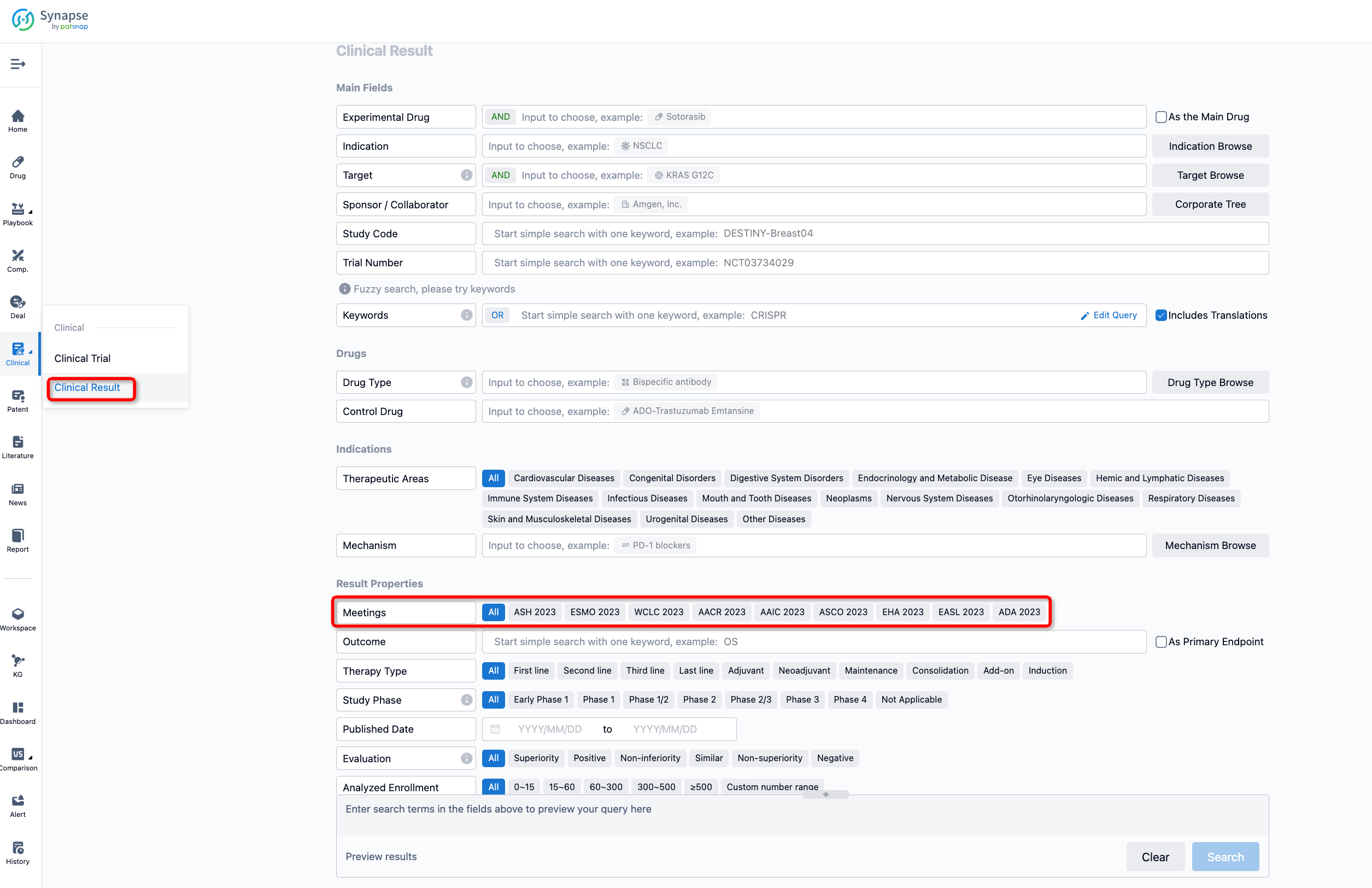 A single result clearly shows important information such as registration number, phase, indication, Sponsor/Collaborator, biomarker, Trial number, dosing regimen and more.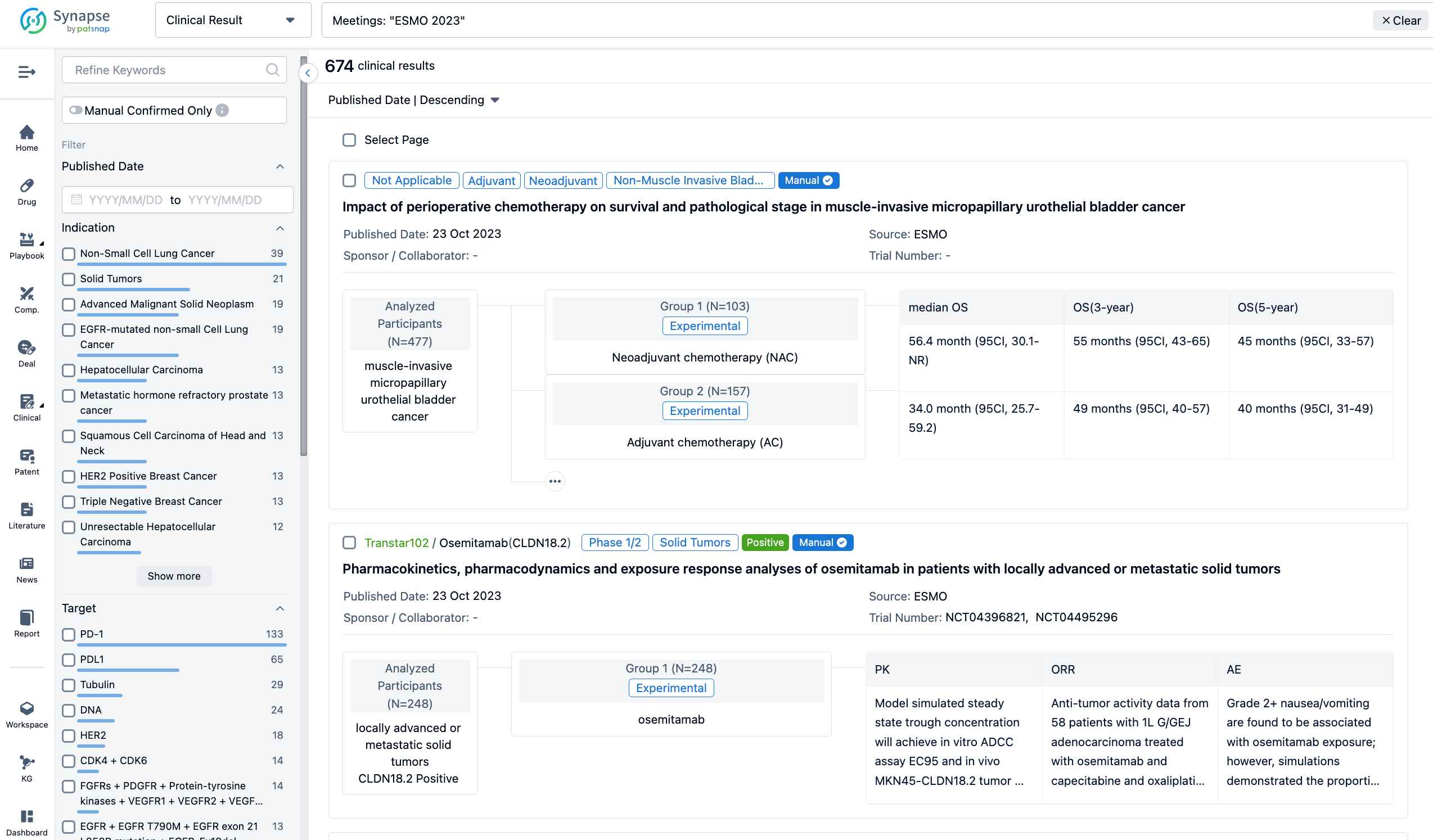 If you would like to view more information about this result, you can go to the result detail page by clicking on the title.
Above the headings, we provide the original source of the outcome data. The basic information is supplemented with more information beyond the list, such as company, study. design, etc.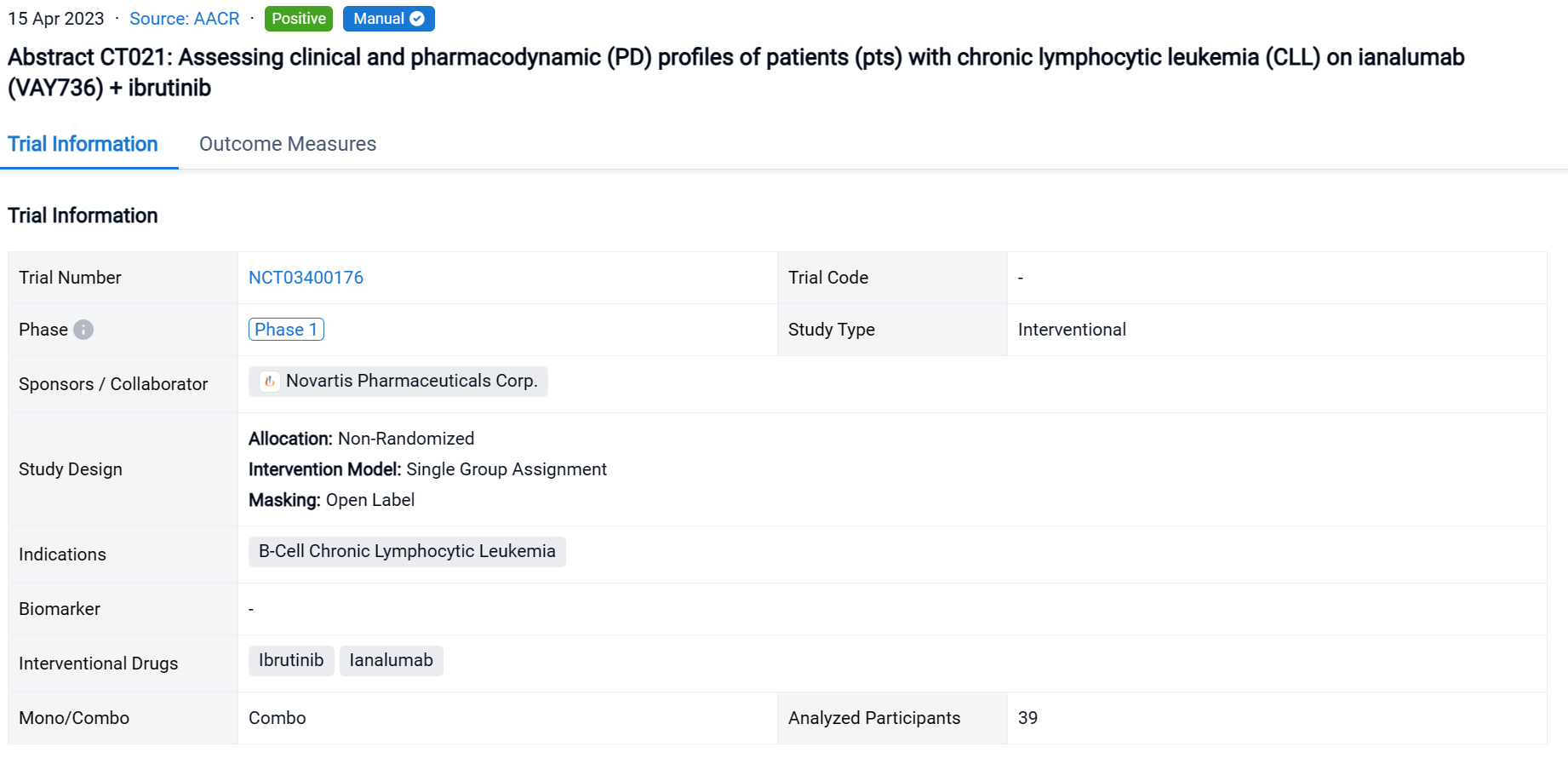 In the important Outcome Measures section, we provide both list and flowchart forms, which are convenient for you to overview the comparison group information and core indicator data.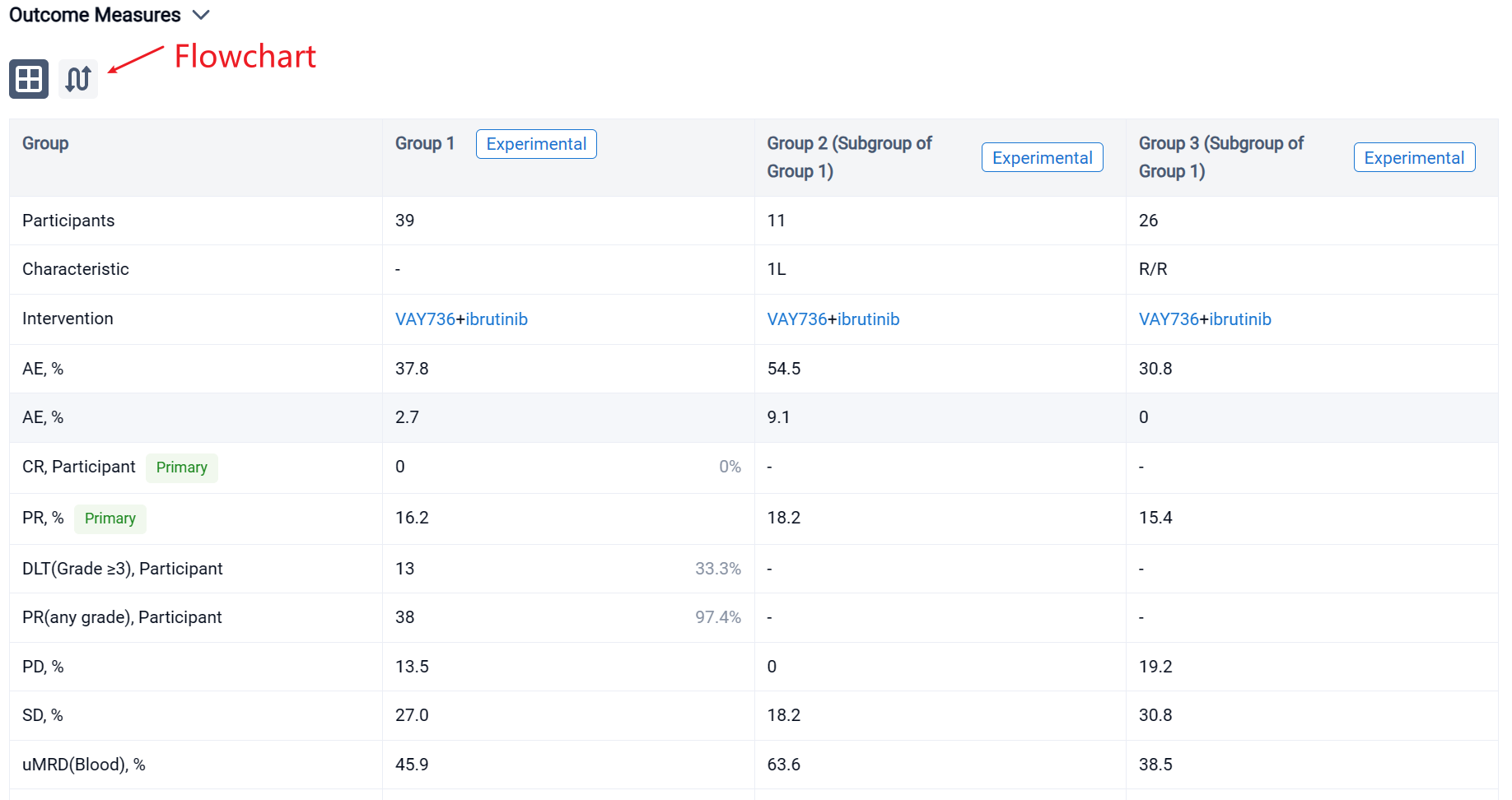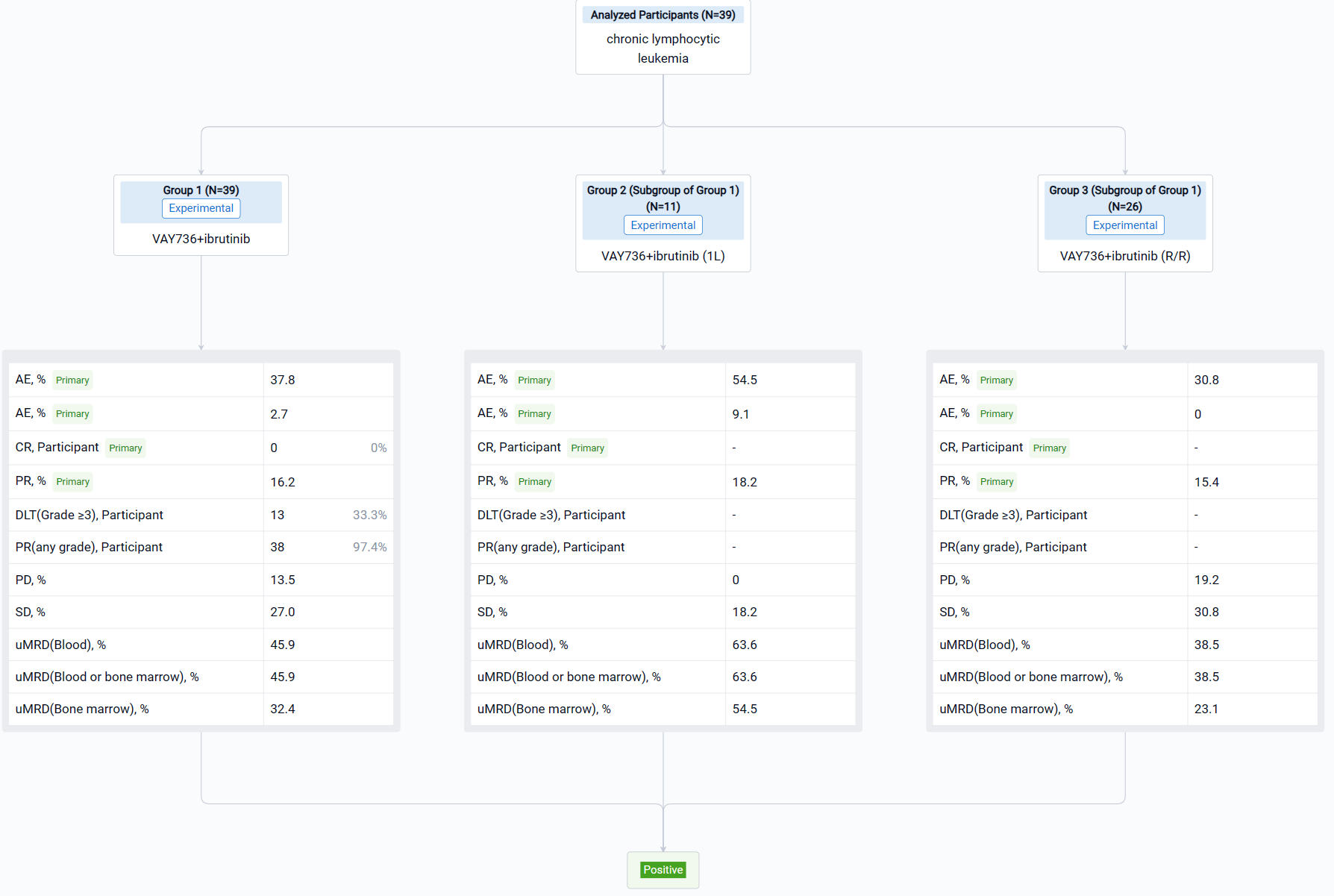 Finally, if you need to download these results, you can conveniently check the check boxes on the left side of the list, or directly click the "Export" button to download the data for personalized analysis and file sharing.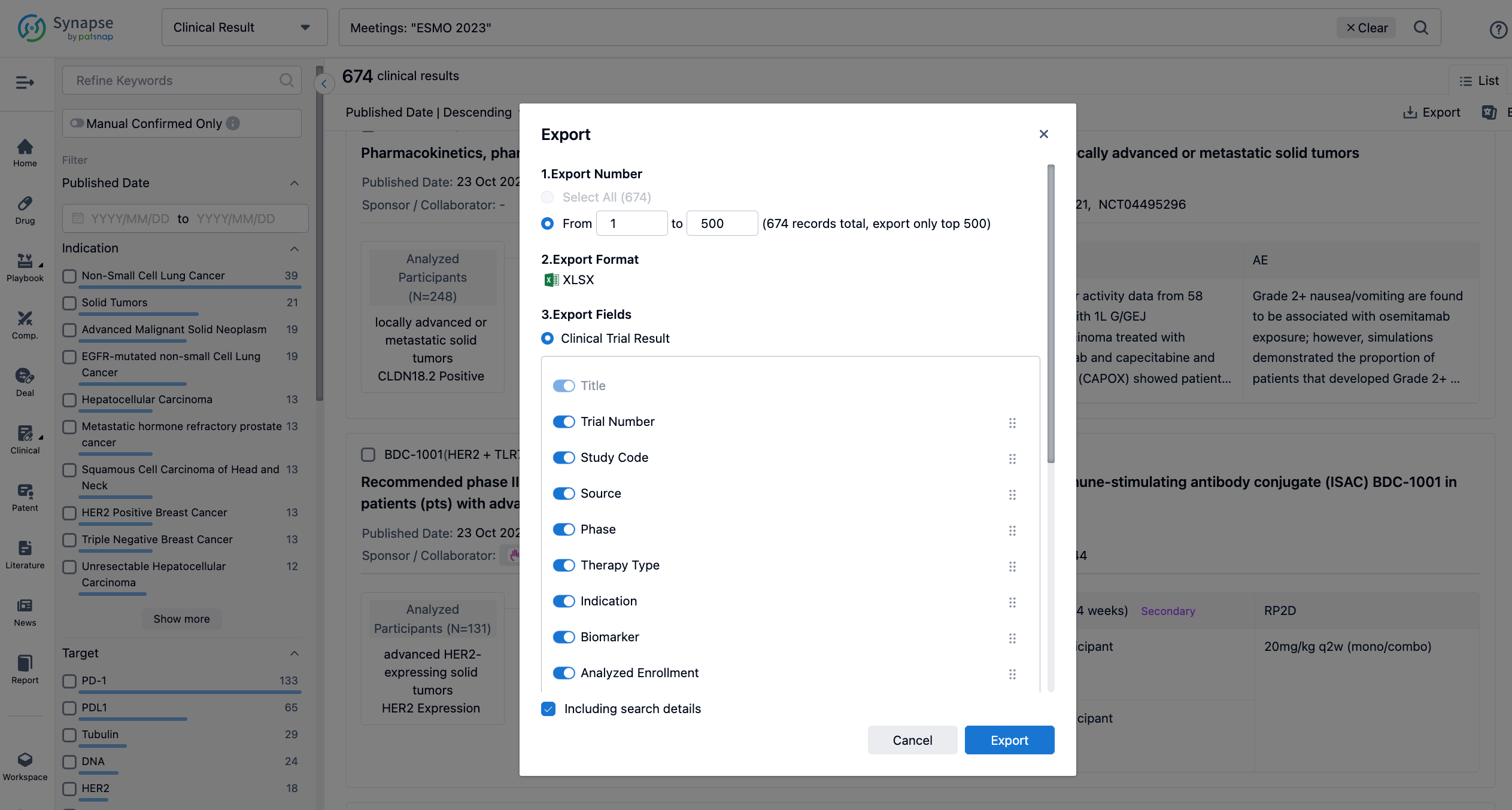 Click on the image below to embark on a brand new journey of drug discovery!