Ionis Pharmaceuticals, Inc. revealed the successful completion of participant recruitment and encouraging early results from Part 1 of the continuous HALOS Phase 1/2a investigation of ION582 (BIIB121) in the context of Angelman syndrome.
👇Please click on the image below to directly access the latest data (R&D Status | Core Patent | Clinical Trial | Approval status in Global countries) of this drug.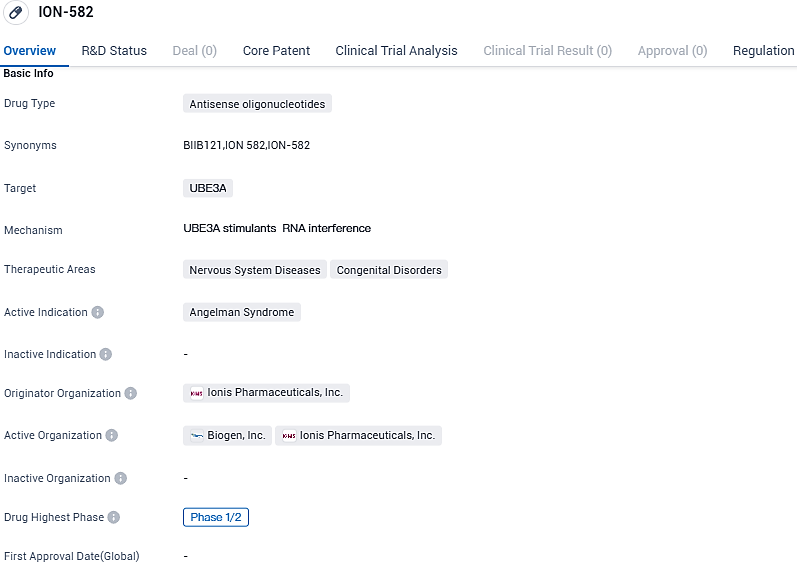 ION582 generally showed good tolerability in the study, demonstrating promising trends in electroencephalogram functioning and early indications of beneficial clinical advancements, which will require verification after a full dataset analysis scheduled for mid-2024. The insights were shared at the FAST Summit, with the presentation being accessible at the provided link.
Angelman syndrome is the result of a missing action in the gene UBE3A. ION582 aims to activate the dormant paternal UBE3A allele, thus enhancing the UBE3A protein production in the brain. Globally, Angelman syndrome is estimated to affect one person in every 12,000 to 20,000. The symptoms involve severe developmental setbacks in motor, language, and cognitive functionalities, as well as seizures and ataxia. It is a critical neurodevelopmental condition that manifests in early childhood, rendering the affected individual entirely reliant on a caregiver.
"The successful enrollment completion in the HALOS trial for Angelman syndrome and preliminary positive clinical findings are sources of hope," Ionis' Chief Scientific Officer and Executive Vice President Dr. Frank Bennett remarked.
"Next year, in the mid-part of the year, we expect to examine the study results. These results will guide us in determining the subsequent developmental phase of ION582. In light of the severe neurodevelopmental gaps and hurdles that people with Angelman syndrome and their caregivers confront, there is a dire need for new treatment breakthroughs in the community. We are excited to be part of this progress, in collaboration with the community, research scholars, regulators, and Biogen, our partners," he added.
👇Please click on the picture link below for free registration or login directly if you have freemium accounts, you can browse the latest research progress on drugs, indications, organizations, clinical trials, clinical results, and drug patents related to this target.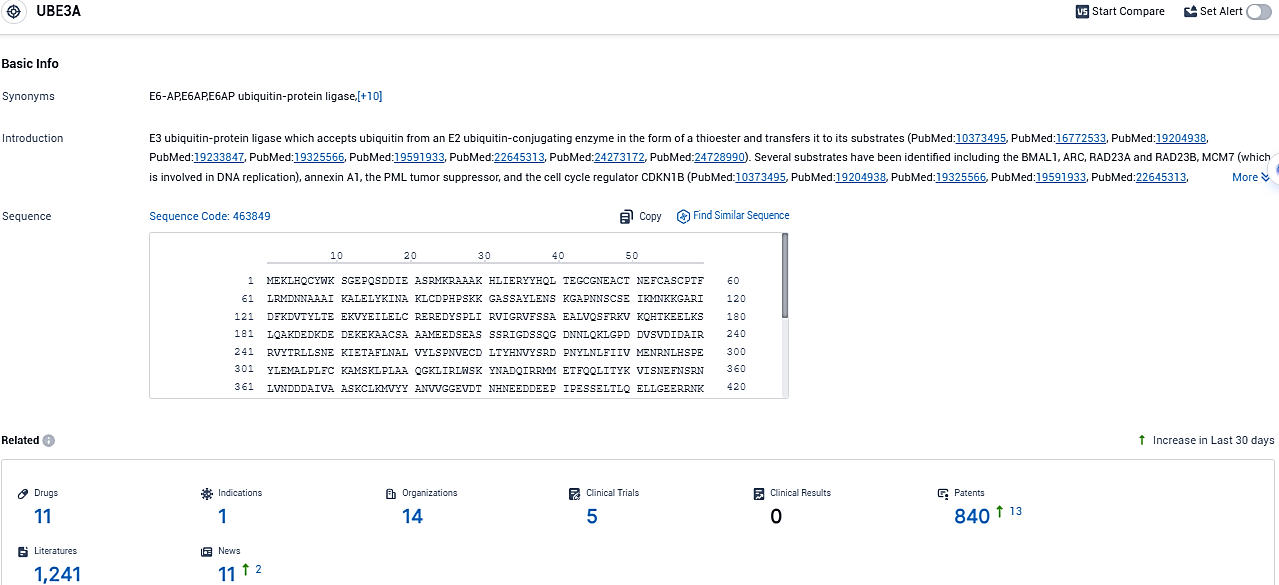 According to the data provided by the Synapse Database, As of November 19, 2023, there are 11 investigational drugs for the UBE3A target, including 1 indications, 14 R&D institutions involved, with related clinical trials reaching 5, and as many as 840 patents.
ION582 has received Orphan Drug Designation in the U.S. and is being developed by Ionis under a strategic collaboration with Biogen. The HALOS Phase 1/2a trial is evaluating safety, tolerability, pharmacokinetics and pharmacodynamics in addition to certain clinical outcomes measures. ION582 is administered intrathecally into the cerebral spinal fluid with a lumbar puncture.